Azalee Webb Allison
of Sherwood, AR, 1914 - 2014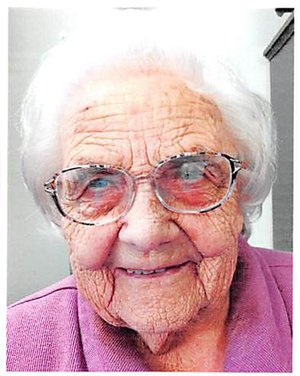 Azalee Webb Allison passed away December 9, 2014. Azalee was born July 17, 1914 in Lanty, a community near Morrilton, Arkansas to Charley and Idell Hankins Webb who preceded her in death. Azalee was a member of the Sylvan Hills Church of Christ in Sherwood where she enjoyed working in the Dorcas House Ministry and participating in the Widow's program.
It would take volumes to tell all Azalee has witnessed and done in her lifetime. In can be summed up by saying she was an honest, hard-working woman who loved her family, the Lord and His church. Azalee lived a long good life and will be greatly missed by her family who loved her very much.
Azalee was preceded in death by her husband, Roy Allison; six brothers, Othel Webb, Bill Webb, Avest Webb, Carroll Webb, Paul Webb and Clyde Webb, two sisters, Burkyle Travis and Emogene Derden and her son-in-law, Carrol Fletcher. She is survived by one daughter, LaVerne Allison Fletcher of Sherwood; four sons, James (Sue) Allison of The Villages, Florida, Avest Carroll (Bonnie) Allison of Branson West, Missouri, Bob (Ella) Allison of Vilonia, and Ronnie Allison of Bigelow; 10 grandchildren, Alison Fletcher Bussard, Angela Fletcher (Mark) Stevens, Philip (Pam) Fletcher, Jimmy (Tracey) Allison, Monica Allison (George) Ketcham, Clinton (Nicole) Allison, Darren (Mandy) Allison, Erica Allison (John) Dees, Heather Allison, Sarah Allison (Lonnie) Abbott; 17 great grandchildren, Meagan Bussard (Kaylon) Buckley, Logan Bussard, Joshua (Camille) Stevens, Jacob Stevens, Carley Stevens, Dylan Fletcher, Delaney Fletcher, Jake Allison, Tyler Allison, Spencer (Jessica ) Evans, Zachary Evans, Katie Allison, Matthew Allison, Emilee Dees, Gabrielle Abbott, Preston Abbott and Ethan Abbott; two great-grandchildren, Caie Evans, Zayden Evans; two sisters, Pearl Perry and Lorene Sloan and a host of nieces and nephews.
Visitation, 1 p.m. Friday, December 12 at Boyd Funeral Home Chapel. Funeral Services will follow at 2 p.m. Burial will be in Union Valley Cemetery near Coy, Arkansas. Memorials can be made to Dorcas House Ministry, Sylvan Hills Church of Christ, 117 West Maryland Ave, Sherwood, Ark. 72120. boydfuneralhome.net.
Published December 11, 2014
OBITUARY SUBMITTED BY:
Boyd Funeral Home
207 E. Second St., Lonoke, AR
Phone: 501-676-2375