William Robert "Bill" Stringfellow
of Little Rock, AR, 1933 - 2014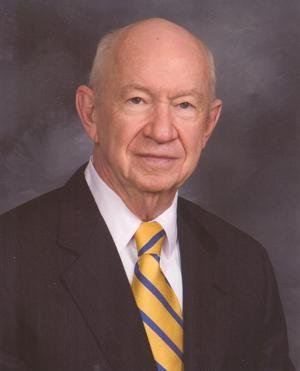 William Robert "Bill" Stringfellow, age 81, was born October 19, 1933 on a farm near Hampton, Arkansas to J. C. and Elsie Parker Stringfellow and departed this transitory life December 9, 2014.
A fifth generation Arkansan, Bill assisted his family on the 280 acre farm acquired by his ancestors in 1850. He and his wife Betty owned and operated the farm for 35 years until its sale in 2006. Bill was a descendant of pioneer families who settled and populated Calhoun, Ouachita and Union Counties – namely Stringfellow, Parker, Ivy, Blann, Roark, Dunn, and Abernathy.
Bill graduated from Hampton High School in 1951 and was vice president of his senior class, treasurer of Future Farmers of America, played in basketball and baseball and was sports editor of the 1951 Hamptonian. Bill attended Southern State College (now Southern Arkansas University) prior to enlisting in the U. S. Air Force in 1953.
On military leave after basic training, Bill married Betty Jo Davis of Harrell, Arkansas on August 6, 1953 whom he first dated on March 23, 1952. Betty was not only his wife of over 61 years and the love of his life but also his best friend. They celebrated their golden wedding anniversary at the Country Club of Little Rock with over 200 family, friends, fellow employees, business associates, colleagues and fellow church members.
During his four years on active duty he graduated in the top ten percent of the advanced training, became aircraft and engine maintenance specialist, crew chief and flight engineer on cargo and troop carrier aircraft, attaining the rank of Staff Sergeant. Bill was honored as Outstanding Airman at Ardmore AFB (Oklahoma) in 1955 and Sewart AFB (Tennessee) in 1956.
Bill graduated from SAU with a BBA degree with a major in accounting and economics. At SAU, he was named to Alpha Chi, national honor scholastic society, Who's Who in American Colleges and Universities, and was the recipient of the Wall Street Journal Achievement Award. Bill was recognized as a Distinguished SAU Alumni in October 2007 and became a SAU Golden Rider in 2009 on the 50th anniversary of his graduation.
Following college, Bill served as an agent with the federal government in Washington, D. C., New Orleans and Little Rock before entering the insurance industry. He joined The Travelers Insurance Company's Little Rock Claims Office where he adjusted, supervised and managed all lines of claims for 13 years.
Bill was awarded a Juris Doctor (JD) degree from the University of Arkansas School of Law, Little Rock (Evening) Division. He was a charter member of and served as Vice Justice of Phi Alpha Delta legal fraternity, Robinson Chapter. He was awarded the American Jurisprudence Award for excellent achievement in trial advocacy. Bill was admitted to practice law in state and federal courts in Arkansas and was a life member of the American and Arkansas Bar Associations.
Bill joined Rebsamen (now Regions) Insurance, Inc. in Little Rock serving as the chief claim and legal officer and established and managed Insurisk Insurance Services, an independent claim, third-party administration and risk management Service Company, which was the largest in Arkansas with 40 plus employees. He also served as President, CEO and Board Member of American Colonial Insurance Company, a domestic casualty-property insurer and a wholly owned subsidiary of Rebsamen for ten years at which time he successfully sold the charter to another insurance company. Bill also managed Rebsamen's numerous and varied real property interests for several years. After 30 years with Rebsamen, Bill retired in 2005 as Executive Vice President and General Counsel.
From October 1, 1977 to January 1, 1979, Bill took a leave of absence from Rebsamen to serve, upon appointment by then Governor and later U.S. Senator David Pryor, as Director of the Arkansas Department of Commerce, an umbrella department for thirteen regulatory and natural resource agencies.
Governor Pryor appointed Bill as Chairman of the Arkansas Commemorative Commission and adviser to the Arkansas Department of Natural and Cultural Heritage on March 1, 1975. He served until October 1, 1977, the date of his appointment as Director of the Department of Commerce. Bill served as Unit M Chair of United Way and was a United Way Pillar for many years. He participated in fund raising campaigns for other charitable organizations including as a team leader in an Arkansas Children's Hospital major fund-raising campaign. He served as Treasurer and Board Member of the Samaritan Counseling Center of Central Arkansas.
Bill and Betty are members of the SAU Foundation Honors and Legacy Societies in recognition of their financial and personal support of SAU. Bill served several years on the SAU Foundation Board of Governors, including the offices of Secretary and Chairman. In January 2011, Governor Mike Beebe appointed Bill to a five-year term on the SAU Board of Trustees where he was serving as the Chairman of the Board. Bill was also appointed in 2012 to a four year term as a member of the Arkansas Commission for Coordination of Educational Efforts.
Bill was a member of the Hampton (United) Methodist Church from 1933 to 1963 and was a leader in church school and youth fellowship. In 1963, Bill became a member of Christ Episcopal Church in Little Rock and was honored, privileged and blessed to have served as Lay Reader, Eucharistic Minister, and seven terms in Vestry membership including twice as Senior Warden. Bill also served as Officiant for many years at various Morning, Noonday and Evening Prayer services in Witsell Chapel. He was a frequent delegate to Episcopal Diocese of Arkansas conventions.
Bill and Betty were avid golfers at the Country Club of Little Rock and strong supporters of the SAU Muleriders and UofA Razorbacks.
Bill is survived by his wife, Betty, sisters Maurice Stanford (Ray, deceased), Portland, Ore., and Linda Stuckey (Richard), Longview, Texas, three godchildren, a host of nieces and nephews, great nieces and nephews, great-great nieces and nephews and other relatives and friends, all of whom he loved and treasured. Bill was preceded in death by his parents and sisters and their husbands - Katie Mocco (Bud), Rae Grigg Mitchell (Gene), Cleo Adams (Stacy).
A Memorial and Holy Communion Service in celebration of Bill's life will be held at Christ Episcopal Church, 501 Scott Street, Little Rock, Ark. on Saturday, December 13th at 10 a.m. followed by a reception and visitation in the parish hall. Committal will follow at 3 p.m. in Dickinson Cemetery near Harrell, Calhoun County, Arkansas. Memorials may be made to Christ Episcopal Church, 501 Scott Street, Little Rock, Arkansas 72201 or Southern Arkansas University Foundation, 100 East University, Magnolia, Arkansas 71753. Arrangements are under the direction of Ruebel Funeral Home.
Published December 13, 2014
OBITUARY SUBMITTED BY:
Ruebel Funeral Home
6313 West Markham Street, Little Rock, AR
Phone: 501-666-0123
http://www.ruebelfuneralhome.com