Artheria Williams
of Little Rock, AR, 1919 - 2014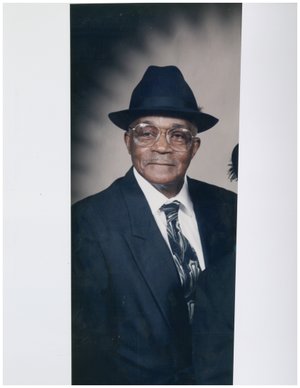 Mr. Artheria Williams, 95, of Little Rock, Ark. transcended from home to a heavenly home to be with his loving wife of 66 years. A World War II veteran. He was born to the late Artheria and Cleo Williams. Preceded in death by his wife, parents, brothers, sisters and one grandson.
He is survived by his two sons, James and Artheria Williams of Little Rock, Ark.; four daughters, Margaret Williams of LR, Ark., Patricia (Leroy) Ellington of Irvine, Calif.; special daughter, Clarice Landers of Little Rock, Ark. and Beverly (Steven) Morris of Little Rock, Ark.; three brothers, Earl Lee (Willie Mae) Williams, Cleaster (Lucille) Williams and Fred (Mildred) Williams of Victoryville, Calif.; two sisters, Verline Lilly of Wrightsville, Ark. and Hagle High of Sweet Home, Ark.; sister-in-law, Ida (James) Hall of Little Rock, Ark. and a host of other relatives and friends.
Special thanks to the VA, Doctors, Nurses, Social Workers, Care Links, Ms. Jeannette Foley, Professional Care and Betty Hamilton for their care.
Home going services will be on Saturday, December 27, 2014, 12 noon, at Greater Friendship Baptist Church, 4640 Springer Blvd, LR. Interment with honors will be on Friday, January 2, 2015, 12 noon, at Arkansas State Veterans Cemetery, 1501 Maryland Ave, NLR, Ark. Family hour: Friday, December 26, 2014, 7-8 p.m., at Greater Friendship Baptist Church. Arrangements by: Ruffin & Jarrett Funeral Home, 1200 S. Chester St., LR (501) 372-1305.
Published December 24, 2014
OBITUARY SUBMITTED BY:
Ruffin & Jarrett Funeral Home
1200 Chester St., Little Rock, AR
Phone: 501-372-1305