Zackary Scott Towers
Star City, AR, 1994 - 2014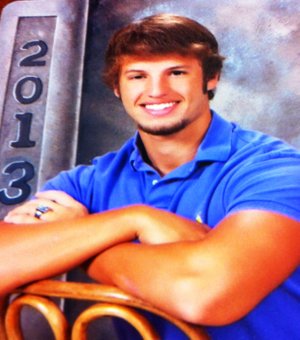 Zackary Scott Towers, 19 of Star City, passed away Wednesday, February 19, 2014 at Arkansas Children's Hospital in Little Rock. He was born June 25, 1994 in Pine Bluff.
Zackary Scott Towers was a warm and loving son, grandson, nephew, cousin and friend. He was a loving protective brother and loved his family endlessly. He had a simple, trusting faith in God that never waivered. Zack was an independent thinker who wasn't easily swayed by others. Zack loved football, weightlifting, vacations, all sports and especially going to the beach. He was fun, easy going, laid back and took things in stride. He was a responsible and very bright student who often helped inspire others with their education. Zack was always surrounded by friends and he had a way of improving those around him.
Zack fought a long, courageous battle, and many lives have been changed due to his ministry. For 15 months, Zack brought people closer to God, souls were saved and people were brought together in a way that has never been seen before. His race has been run and God took His child home. Zack is healed now and is at peace. Zack's legacy is one of faith, love and the spirit of never giving up. He will be missed, but will never be forgotten.
Survivors include his father, Jim Towers of Star City; mother and step-father, Christy and Roger Rasico of Little Rock; 2 brothers, Tyler Reid Towers and Jon Taylor Towers, both of Star City; paternal grandparents, Norman and Patsy Towers of Pine Bluff; maternal grandparents, Bill Moss of Monticello and Rochelle "Sheshay" Moss of Hot Springs and maternal great-grandmother, Odette Blankenship of Crossett.
Funeral Services are 1 p.m. Saturday, February 22, 2014 at the First Baptist Church in Star City with Bro. Paul Holderfield and Bro. Mike Powell officiating. Visitation is 5-8 p.m. Friday at the church. Burial at Best Cemetery in Star City. Pallbearers are Luke Oldner, Austin Smith, Austin White, Jackson Haynes, Jarrett Frizzell, D.J. Pace, Jordan Burns, Austin McGehee, Zach House, Darian Washington, Michael Criss, Devondrick Shelton, Jake Carr and Tyler Musselwhite.
In lieu of flowers, memorials may be made to the Zack Towers Scholarship Fund, The Bank of Star City, Attn: Wanda Tubbs, P.O. Box 69, Star City, Ark. 71667. Arrangements by Griffin Funeral Service in Star City. Online obituary at www.griffinfuneralservice.net.
Published February 21, 2014
OBITUARY SUBMITTED BY:
Griffin Funeral Services - Star City
811 North Lincoln Ave., Star City, AR
Find it at: Hwy 425
E-mail: griffinservices@centurytel.net
Phone: 870-628-4204
http://www.griffinfuneralservice.net/