Jannie Gertrude Dwiggins
Little Rock, AR, 1919 - 2013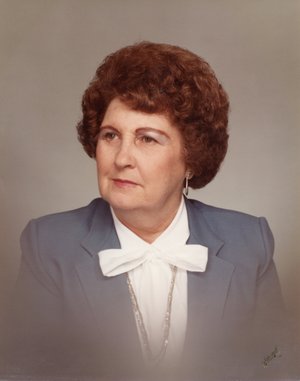 Jannie Gertrude Dwiggins, 94, of Little Rock passed away December 28, 2013. Gertrude was born in Maybank, Texas on January 1, 1919 to Martin and Cora Miller.
She is survived by one daughter, Shirley P. McDonald; one son, Gary E. Dwiggins and his wife, Deborah L. Dwiggins; a sister, Ina Stevenson; a brother, Noble Miller; a sister-in-law, Elva Miller; a grandson, Christopher E. Dwiggins and his wife, Annie Dwiggins; a great-grandson, Patrick B. Dwiggins; a step-grandson, Dylan Chambers; one step-granddaughter and her husband, Katie and Jeff Powell; two step-great-granddaughters, Jaden D. Powell and Eleanor S. Chambers; and two step-great-grandsons, Ethan and Jack Powell.
She is pre-deceased by two brothers, Leo and Ancil Miller and one sister, Lomeda Miller.
They moved to Little Rock in 1935 where she met and married Reverend William Evans in 1942. Reverend Evans passed away in 1945. She then met William H. Dwiggins and they were married in 1948 and remained married for 55 years until he passed away in 2003.
She was a member of Second Baptist Church where she taught Training Union for 10 years and taught a Sunday School Class for many years. She joined Immanuel Baptist Church in 1972. She was actively involved in the Women's Missionary Union program for 39 years. When she became a Christian she felt that God wanted every Christian to be personally involved in ministry. Like the Apostle Paul, her commission to serve was also an expression of God's saving grace.
She was a wonderful mother, kind and generous, and she loved people. She had a wonderful smile and laughed a lot. She was a great cook and had lots of people over to eat on all holidays: everyone loved her great hospitality. She worked for W.H. Dwiggins Title Company at 816 Main Street for three years as secretary and also at Sterlings Department Store at 5th and Center Streets for several years. We love her dearly and will miss her, but she is now where she has always wanted to be - with her "Heavenly Father."
Funeral service will be 2 p.m., Friday, January 3, 2014, at Roller-Chenal Funeral Home, 13801 Chenal Parkway, Little Rock, Ark. 72211 (501) 224-8300. Interment will follow at Roselawn Memorial Park. The family will receive friends 6-8 p.m., Thursday, January 2, 2014, at the funeral home.
Memorials may be made to Immanuel Baptist Church, 501 N. Shackleford Rd, Little Rock, Ark. 72211, (501) 376-3071. Online guestbook: www.rollerfuneralhomes.com/chenal.
Published January 1, 2014
OBITUARY SUBMITTED BY:
Roller-Chenal Funeral Home
13801 Chenal Parkway, Little Rock, AR
Phone: 501-224-8300
http://www.rollerfuneralhomes.com/chenal