Arabella Mash
Beebe, AR, 2013 - 2014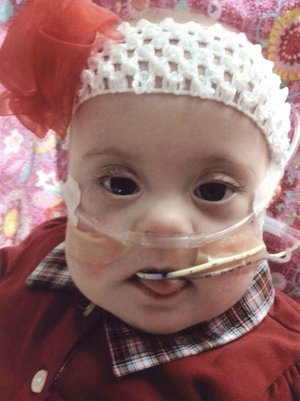 Our sweet and beautiful Princess Arabella received the most beautiful wings possible on Friday. She arrived on the wings of angels on April 11, 2013 at 5:10 p.m. and traveled her heavenly journey on Jan. 3, 2014 at 5:10 p.m.
We cannot express in words how devastated we are at the loss of the physical part of sweet Bella. She will forever be with us in our hearts. She touched so many people in her short life here on Earth. Our child took this world by storm and her personality was and is outstanding. She had a lifetime of love in her eight and a half short months. Our sweet princess knew nothing but love, pure love, all of her life. She readily gave it and most graciously received it. She gave us the gift of this past week to come to some sort of terms with her possible departure. Thursday, she gave us another gift of being awake a lot and smiling and just being Bella again. It was beautiful and heartbreaking at the same time. Friday, when she looked at us, her little eyes told us she was tired and was ready to make her journey. With much love and grace, she stayed in my arms until I told her it was ok and mommy and daddy would be ok. It was time for her to rest. She just gracefully, in Arabella style, took her angels' hand and began her journey. Arabella is survived by her mother and father, Dana and David Mash of Beebe; her big brother, Logan Mash of Beebe; and her grandparents, James and Gennie Mash of Beebe, and Glen and Janice Wendel of Rose Bud.
Family will receive friends Tuesday, Jan. 7, 2014 from 6–8 p.m., at Westbrook Funeral Home. Funeral Service will be Wednesday, Jan. 8, 2014 at 10 a.m. at Westbrook Funeral Home. Burial will be at Antioch Cemetery.
Arrangements by Westbrook, a Smith Family Funeral Home. www.SmithFamilyCares.com.
Published January 6, 2014
OBITUARY SUBMITTED BY:
Smith-Westbrook Funeral Home
404 Dewitt Henry Drive, P.O. Box 490, Beebe, AR
Phone: 501-882-5412
http://westbrookfuneralhome.com/