Evelyn C. Dwyer
Hot Springs Village, AR, 1930 - 2014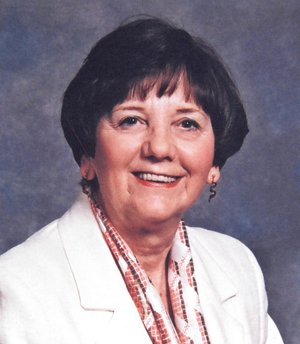 Evelyn C. Dwyer, 83, of Hot Springs Village passed away peacefully on Thursday, Jan. 9, 2014. She was born at home in Loganville, Wis. to Frank J. and Cecilia (Gruber) Lins on Sept. 27, 1930.
Eve graduated from St. Luke's High School in Plain, Wis. and went on to nursing school at St. Anthony's Hospital and Rockford College, in Rockford, Ill.
After her four children were older, Eve spent many years working with Cystic Fibrosis patients in research and testing children at UW Hospitals and clinics in Wisconsin.
Eve was preceded in death by her parents; as well as two brothers, Francis and Victor Lins. She is survived by her devoted husband of 63 years, B. Donald Dwyer; and three sons; Michael Dwyer and wife Elizabeth of Seminole, Fla., Stephen Dwyer of Lakewood, Colo., and Patrick Dwyer of Madison, Wis.; one daughter, Linda DeHart and husband Norman of Boulder, Colo.. She also leaves behind her five beautiful grandchildren, Kristen Carmona Baez, Ashley, Daniel and Megan Dwyer and Claire DeHart; along with one Great-grandson, Julio.
Eve was from a family of nine and is survived by Donald Lins, of Sauk City, Wis., Bernadine Beck of Lodi, Wis., Valeria Phillips of Reedsburg, Wis., Imelda Adelman, of Cazenovia, Wis., Lois Degner, of Mequon, Wis. and Gary Lins of Hoboken, Ga.
Memorial services will be at 1 p.m. Friday, Jan. 17, 2014 at Village Bible Church with Pastor Mark Cain and Levan Hubbard officiating.
Memorials can be made to: Arkansas Hospice, 628 Malvern Ave., Hot Springs, Ark. 71901 or to The Missionary Fund at Village Bible Church, 100 Ponderosa Way, Hot Springs Village, Ark. 71909.
Services are entrusted to CedarVale Funeral Home. Online condolences may be shared at www.cedarvalefuneralhome.com.
Published January 12, 2014
OBITUARY SUBMITTED BY:
CedarVale Funeral Home
200 Minorca Rd, Hot Springs Village, AR
Phone: 501-922-6100