Roy C. Biggerstaff Jr.
Quitman, AR, 1928 - 2014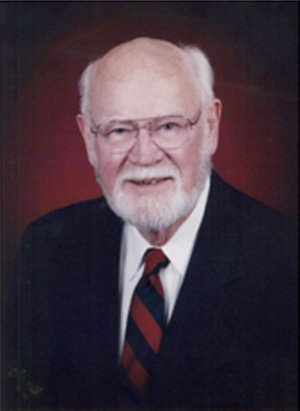 Roy C. Biggerstaff Jr. passed away on Monday night, Jan. 6, 2014. He was born Feb. 15, 1928, in Hearne, Texas to Roy C. and Maureen Daniels Biggerstaff. He graduated from Carthage High school in 1945 and the University of Texas at Austin in 1950 with a BBA. He was a member of the Phi Kappa Sigma fraternity. Roy served his country in the U.S. Army as a Corporal from 1954-56, where he acted as an assistant to Major General Newman. He was stationed in Heidelberg, Germany. He also attended the University of Heidelberg during his time in Germany.
After his discharge from the Army in 1956, he began work for the John Oster Co. as a factory sales representative. Thus began his love for sales. He left Oster in 1974 to start his own company, Biggerstaff Marketing, a Manufacturer Representative Organization, with offices in Grand Rapids and Royal Oak, Michigan. His territory covered Michigan, Ohio, and Northern Indiana. Biggerstaff Marketing was very successful and he received many awards in his field.
Upon retirement, Roy and his wife, Judy, traveled to several states looking for a place to retire. Their search ended when they found Diamond Bluff and Greers Ferry Lake. They fell in love with the people, the community, and the beauty of overlooking this lake from their home on the mountain. Roy became very involved in the community and joined the Rotary Club of Heber Springs in 1996, serving as President from 2003-2004. He was also a Paul Harris fellow. He was a member of the First United Methodist Church in Heber Springs.
Roy is survived by his wife of 27 years, Judy Haggard Biggerstaff; son, Carr Biggerstaff and wife, Jeanne; daughters by marriage, Toni Cameron and husband, Vance, and Lisa Harig and husband, Jeff; grandchildren, Paden Biggerstaff, Christopher McKinney, and Meagan and Brooke Cameron.
The family wishes to thank the many people who supported them during his illness, especially, Alice Watts, his assistant of seven years, and Edwina Bradshaw. A special thanks to Dr. Robert Cowherd for his medical care and compassion towards his patients, and to the staff of the Southridge Nursing Home who provided loving care during his last days.
A celebration of Roy's life will be held in the spring, Roy's favorite time of the year.
Published January 12, 2014
OBITUARY SUBMITTED BY:
Olmstead Funeral Home
601 W. Main St., Heber Springs, AR
Phone: 501-362-2422
http://www.olmstead.cc/