Sammie Doris Ashcraft Pickard
Albuquerque, NM, 1920 - 2013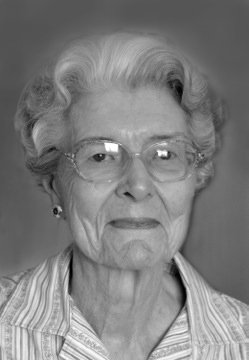 Sammie Doris Ashcraft Pickard died on December 27, 2013, at the age of 93. Sammie was born on 14 November 1920 in Poyen, to Ida Mathews Ashcraft and Henry Harrison Ashcraft. She grew up in Grant and Hot Spring Counties; she graduated from Malvern High School in 1938. In 1941 she earned a B.S. degree from Ouachita Baptist University, where she was an outstanding student and completed the coursework in only three years. During the war years she worked at a munitions plant in Jacksonville. It was there she met her future husband, A.J. Pickard. They married on 23 June 1945. Sammie and A.J. moved to Albuquerque in 1949, where he worked for the University of New Mexico and she taught 5th and 6th grades in the Albuquerque School System. She continued to teach until her retirement, but, as everyone in the family knows, Sammie was a kind and effective teacher long before she taught school and long after she retired. Sammie was a long-time member of Trinity Baptist Church in Albuquerque, where she taught Sunday School for many years. During her last years at Las Colinas Village, Sammie attended worship services offered by Bella Vista Baptist Church, and participated enthusiastically in Bible studies there. She was an exacting and attentive cook; she read avidly. Sammie's high intelligence never waned. Neither did her kindness.
Sammie was preceded in death by her husband, Alton James Pickard; her sister Eunice Ashcraft Balfour and husband Dan; brothers Quintin Ashcraft and wife Helen; Dr. Charles Ashcraft and wife Sarah; Dr. Morris Ashcraft; Herman Ashcraft; and Thomas L. Ashcraft. Also preceding her in death was her daughter Pat Pickard Hale and husband Herb Hale. She is survived by two sons, Dr. Jim Pickard and wife Jerrie of Martinsburg, West Virginia, and Rev. Joe Pickard and wife Linda of Billings, Montana; four grandchildren, seven great-grandchildren, and a host of nieces and nephews. Sammie is also survived by her dear sister, Shirley Ashcraft Pike and husband, Don of Albuquerque; and three sisters-in-law: Bernice Haley Ashcraft of Chicago, Lillian Henard Ashcraft of Malvern, and Bea McClain Ashcraft of Fort Smith.
In lieu of flowers, memorial gifts may be sent to Jeremiah Ministries, P.O. Box 50030, Billings, Mont. 59105, or to the charity of your choice.
Published January 14, 2014
OBITUARY SUBMITTED BY:
Edwards Funeral Home
PO box 3, Fort Smith, AR
E-mail: edwardsfh@yahoo.com
Phone: 479-782-8203