Shirlie Marie Davis
of North Little Rock, AR, 1923 - 2014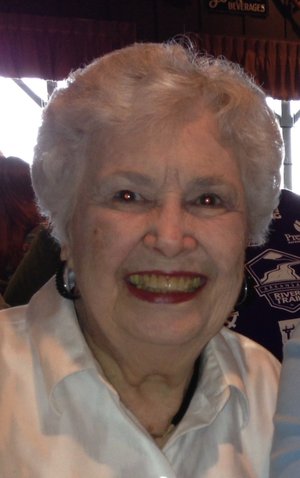 Shirlie Marie Henderson Biggs Cochran Davis, 90, a resident of North Little Rock, Arkansas died Tuesday, July 1, 2014. She was born July 4, 1923 in Booneville, Arkansas, daughter of the late James Ray Henderson and Ada Elizabeth Ervin Henderson. She joined a family that included her sister, Connie and brother, R.J. Shirlie and R.J. often expressed their joy, delights and privileges in spending their early childhood (1930's) exploring the streets and activities of Little Rock. Their father managed two downtown hotels during this period and with both parents busy in this endeavor, R.J. and Shirlie found free time to explore, study and learn the city. The Old State Capitol on Markham was their favorite playground. A favorite family gathering was hearing their stories of growing up in Little Rock and Shirlie playing jacks and dolls at the entrance of the court house.
She was a 1941 graduate of Mabelvale High School and attended Draughon School of Business. She married Fred R. Biggs in 1943 and became a "service follower" during World War II. She spent time in St. Augustine, Florida where she worked for the Florida East Coast Railway. This marriage was blessed with the birth of their daughter, Mary Elizabeth Briggs. After her husband's death, Shirlie started a career with the United States Government, including Internal Revenue Service, Veterans Administration (Ft Roots), United States Army Corps and she retired from the United States Corps of Engineers, Little Rock District.
Shirlie found love again and married James W. Cochran in 1959. However, after thre years, again death came for her husband and she remarried in 1966 to Dexter "Dick" Davis who brought two daughters with him to the marriage, Sharon and Vickie. Dick died in 2009, their marriage of 43 years was appreciated and cherished by both.
Shirlie was preceded in death by her parents; sister, Connie Buddenberg; brother, R.J. Henderson and three husbands, Fred Biggs, J.W. Cochran and Dexter Davis and close family members and friends. Those left to mourn her are her beloved dog, Sassy; three daughters, Mary Beth Vowell (Bill), Sharon Spears (Danny), Vickie Carter (Tony); grandchildren, Oliver Vowell (Catherine), Rev. Raigan Miskelly (Rev. Rocky), Casey Spears Vinson (Daniel), Brandon Carter, and Sarah Carter; great-grandchildren, Quint Vowell, Andrew Devillier, Eric Devillier, Wright Miskelly, Maguire Miskelly, Wesley Miskelly, and Walker Miskelly,; a very special nephew, Joe Chan Buddenberg (Margie); loving nieces, Brenda Chrane, and Cheryl Parker (Cecil).
An uncle once expressed to his mother (Shirlie's grandmother) "How did Shirlie get three outstanding good men and some women can't even find one good one?" She answered "That's easy, because she was one good woman!!"
Shirlie shared with a friend she couldn't remember ever not loving Jesus. She loved her church, friends she found there, and the peace she had knowing where her loved ones were and that she would be with them again….someday!
One of Shirlie's greatest joys was reading! She was a prolific reader and when asked how she could read so fast and so much, she replied "I am never bored when I am reading, never alone and also we're never too old to learn."
Funeral services will be held at 10 a.m. Thursday, at First Baptist Church, Sherwood. Everyone attending is welcome to wear red, white and blue. After a short reception in the church fellowship hall, burial will follow in Roselawn Cemetery. Online obituary at www.SmithFamilyCares.com.
Published July 2, 2014
OBITUARY SUBMITTED BY:
North Little Rock Funeral Home
1921 Main St, North Little Rock, AR
E-mail: mail@nlrfh.com
Phone: 501-758-1170