Frances Jean Woodell Evans
Clinton, AR, 1927 - 2014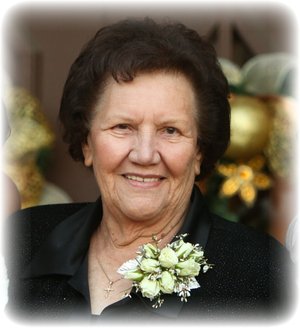 Frances Jean Woodell Evans passed from this world on July 2, 2014 after living a long and wonderful life among family and friends. Frances was born in Kensett, Ark. on June 17, 1927 and lived there until the death of her father in 1929. The remainder of her life was spent in Clinton.
Frances served our country in 1945 at the Pentagon in Washington, D.C. at the close of World War II along with her sister, Ruth. She was a typist, generating documents for the military. After returning home, she attended Arkansas State Teachers College in Conway where she studied nursing. It was during this training that she met and married Carroll B. Evans on September 14, 1947, and spent the next 63 years raising five boys and one girl, then helping with many grandchildren.
Shortly after their marriage in 1947, Frances and C.B. opened the Evans Cafe' on the Clinton Court Square. After a short stint operating the "meat and three," they traded the Café for a laundry, located behind the old First Baptist Church building. There they offered wringer-type washing machines for public use at the rate of sixty cents per hour. Frances ran the laundry while C.B. traveled his district giving driver's tests as a state trooper.
As technology improved, Frances and C.B. moved to a building next door to the office of Dr. John A. Hall and offered coin-operated automatic washing machines and clothes dryers at Evans Magic Wash, where Frances continued her friendship with many old and new customers. She operated the laundry and took care of her family until her retirement and sale of the laundry in 1984. Since her retirement, Frances spent all her time enjoying her family and friends in the home where she has lived since 1956.
She was preceded in death by her parents, Bertha Yingling Woodell Lewis and Louis Napoleon Woodell; husband, Carroll B. Evans; son, Joe Don Evans; infant daughter, Linda Gail Evans; brother L.N. Woodell; and sisters, Winnie Treece and Ruth Lewis. Survivors include four sons: James Evans (Jayne) and Jerry Evans (Marsha) of Clinton; Jack Evans (Shon) of Carlisle; John Evans (Barbara) of Hendersonville, Tennessee; one daughter, Jeannie Moore (Tracy), of Conway; and daughter-in-law, Carole Evans, of Clinton. She was "Granny" to 15 grandchildren: Angela Marshall (Chris), Carmen Henderson (Mark), Jayme Brown (Lance), Nancy Evans, Rhonda Evans, Robert Evans, Neeley Parks (Brent), Lindsey Maddox (Zack), Burton Evans (Glenda), Clark Evans (Sunny), Jim Rose (Beth), Alisha Stripling (Ryan), Mallory Preddy (Corey), Shannon Busby (Brian), and Whitney Malham (Matt). She had 25 great-grandchildren: Dustin Williams, Parker Williams, Addyson Marshall, Emersyn Marshall, Haley Kinggard, Colby Kinggard, Alex Miles, Sydney Brown, Jerod Brown, Dylan Evans, Johnny Parks, Anna Parks, Azalea Maddox, Kerigan Evans, Westen Evans, Jana Evans, Jaxson Evans, Alexis Atwell, Landon Rose, Keegan Rose, Lynleigh Preddy, Davis Stripling, Emma Busby, Adalyn Busby, and Molly Malham. She is also survived by a brother, Ed Lewis (Beverly) of Atlanta, Georgia; sister-in-law Wilma Evans of Clinton; sister-in-law Mary Faye Woodell of Clinton; and a host of nieces and nephews.
Visitation will be 6-8 p.m. Thursday, July 3, 2014 at Roller-McNutt Funeral Home Chapel Clinton, Arkansas. Funeral Service will be 10 a.m. Friday, July 4, 2014 at Friendship Baptist Church Clinton, Arkansas with Pastor David Holcomb officiating. Burial will follow in Evans Mountain Cemetery.
In lieu of flowers: donations can be made to Friendship Baptist Church 333 3rd Street Clinton, Ark. 72031 or Project Surge, P.O. Box 806 Clinton, Ark. 72031. Funeral Arrangements are under the care and direction of Roller-McNutt Funeral Home of Clinton, Arkansas. Online guest book: www.rollerfuneralhomes.com.
Published July 4, 2014
OBITUARY SUBMITTED BY:
Roller-McNutt Funeral Home
Highway 65 South, P.O. Box 177, Clinton, AR
Phone: 501-745-2151