Mack Kellum
Bryant, AR, 1922 - 2014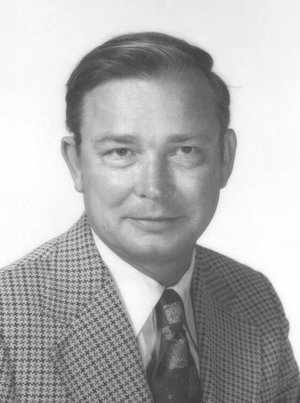 Mack Kellum, 91, of Bryant, was born December 24, 1922 in Little Rock and departed this life June 29, 2014. Pursuing what would be a lifelong passion, Mack earned his private pilot's license in 1939. He was only 16. Graduating Little Rock High School in 1942, he began work as an architectural draftsman. Later that year, he enlisted in the U.S. Army Air Force and by 1944 was stationed in Italy with the 15th Air Force. He served in ordinance, as a draftsman, and a bomber tail gunner.
After the war he returned to Little Rock, working downtown as a theatre projectionist before resuming drafting. The early '50s saw Mack begin his first business as an independent draftsman/contractor and by 1954, had moved his family to North Little Rock. There, he joined the postwar building boom that produced Lakewood and similar subdivisions. Highly regarded by his colleagues, he was elected president of the National Home Builders Association of Greater Little Rock in 1977.
Entrepreneurial in spirit and practice, when construction waned in 1984, he started Kellum Label & Stamp, which he operated until his retirement in 2004. In addition to being an accomplished builder/printer, Mack was a 32nd degree Mason/Shriner, a former Cub Scout Pack Leader and BBQ enthusiast.
Mack is preceded in death by his parents Kenneth W. Kellum, Sr. and Ola McFarlin Kellum, siblings Kenneth W. Kellum, Jr. and Dorothy Kellum Linsley, and grandson Michael Kellum. He is survived by his wife of 67 years, Sybil Morse Kellum of Bryant, sister Bess Kellum Pope of Alexander, and sons Ron Kellum (Beverly McClain) of N.Y., N.Y. and Keith (Terry) Kellum of Alexander. Also grandchildren Krista Kellum Moore of Benton, Michael P. Kellum of Brownwood, Texas, Zachary (Shaunna) Kellum of Sigonella, Sicily, Becky Kellum of N.Y., N.Y., seven great-grandchildren, and many nieces and nephews.
Mack will be remembered for his integrity, loyalty, and as the great provider he was. He will be dearly missed.
In lieu of flowers, memorials may be made to Arkansas Hospice, 14 Parkstone Circle, North Little Rock, Ark. 72116; www.arkansashospice.org. Memorial Service will be at 1 p.m., Monday, July 14, 2014 / Arkansas Veterans Cemetery, 1501 W. Maryland Ave, Sherwood, Ark. Arrangements made by Ashby Funeral Home, Benton, Ark. www.ashbyfuneralhome.com.
Published July 11, 2014
OBITUARY SUBMITTED BY:
Ashby Funeral Home
108 West Narroway, Benton, AR
Phone: 501-778-2544