James "Kenneth" Brewer
Hot Springs, AR, 1920 - 2014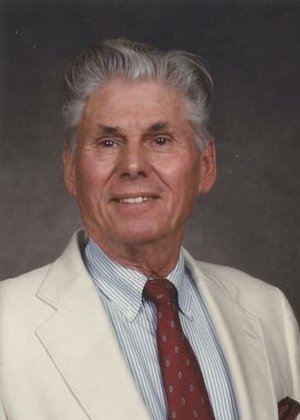 James Kenneth Brewer passed away in Hot Springs at the Quapaw Care and Rehabilitation Center on Monday, June 30, 2014.
He was born in McRae, Ark. in 1920. His parents, Henry Hiram Brewer and Mary Mae Wisdom Brewer; a daughter, Laura Sangster; and son, Timothy J. Brewer, preceded him in death.
Brewer was a veteran of WWII, serving in the U.S. Navy for three years in the South Pacific as a torpedo man and dispatch carrier. He was assigned to the S.S. San Juan. After the war, Brewer became a licensed pilot and logged over 2000 hours volunteering for the Civil Air Patrol in CA.
Brewer had been a resident of Hot Springs since 1976. He served as a manager for Gay and Taylor Insurance Claims Agency until his retirement in 1985. Additionally, he was a Commissioner for the Hot Springs/Garland County Beautification Commission. He served as a Scout Master in the Boy Scouts of America for many years. He took several troops to Camp Philmont.
He was a communicate of St. Luke's Episcopal Church in Hot Springs, serving on the Vestry and ushering for many years.
He leaves behind a daughter, Diane Meeks, of Utah; his son, David Brewer, of Washington; two grandchildren, Linda Sangster and Jason Sangster; and one great-grandson, Lucas Kirtley, all of Hot Springs.
He has many nieces, nephews and cousins living in Little Rock, Beebe, Mt. View, Ward, McRae, Ark. and various towns in Louisiana.
There will be memorial service at St. Luke's Episcopal Church on July 16, 2014 at 11 a.m. followed by a reception for the guests. At 3:30 p.m., a military service will be held at the Lebanon Cemetery in McRae, where his ashes will be placed in the cemetery plot with his parents. The Reverend CD Baker will be officiating at both services.
In lieu of flowers, memorial gifts may be made to St Luke's Episcopal Church, P.O. Box 1117, Hot Springs, Ark. 71902.
Arrangements were by Davis-Smith Funeral Home, Hot Springs and guest registry is at www.davis-smith.com.
Published July 13, 2014
OBITUARY SUBMITTED BY:
Davis-Smith Funeral Home
209 North 3rd Street, P.O. Box 1250, Glenwood, AR
Phone: 870-356-2114