Wendell McCune
of North Little Rock, AR, 1936 - 2014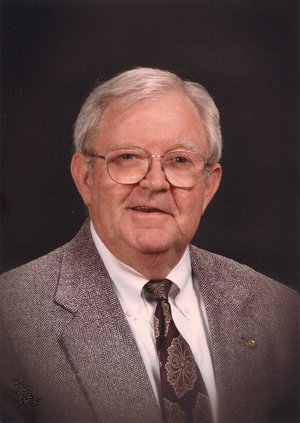 WENDELL MCCUNE - When you think about guys named Bud, certain things come to mind. Guys named Bud take the hand they are dealt and find a way to play it the best way they can. Guys named Bud sacrifice personal ambitions to provide a comfortable life for their family. Guys named Bud have grand stories that get embellished a little more each time you hear them. Guys named Bud drink beer from a can.
On Wednesday, July 9, 2014, the world lost a Bud at a time when we need more of them. Wendell Wade McCune, or Bud as he was known by anyone who mattered, was precisely this type of guy. A humble, unpretentious and hard-working family man who gave to his family, his church, his country and his fellow man. He was born at Fort Worth, Texas, on Nov. 28, 1936, to Berte Carnahan McCune and some guy who quickly vanished from the picture, leaving his mother the job of raising Bud and his brother Mac —which she did admirably. Berte eventually married Kenneth Edwin McCune, the man who Bud would recognize as his father.
Great parental support and more than a few spankings helped Bud and brother Mac harness their youthful energy and channel it into something positive. As an erratic but hard-throwing, left-handed Little League pitcher, Bud once threw a perfect game. As his brother would explain decades later, this accomplishment was due in large part to the extreme fear each batter who approached the plate experienced, not knowing where each pitch might be going. Bud, along with his brother Mac also attained the rank of Eagle Scout. But his true passion and his ticket out of Joplin, Mo. was music.
Bud parlayed a competitive spirit and significant musical talent into a college education at the University of Arkansas Fayetteville where he would be a member of the University of Arkansas Symphony and the Marching Razorback Band. As a musician, he mastered multiple instruments, which would later serve him well as a high school band director. It also was beneficial at many Phi Delta Theta functions where, as a member, he not only partook in the good times, but also often played sax in the house band.
During college summers, Bud worked on the Frisco railroad as a switchman. On one particular day, a rail car in his charge, packed with unknown cargo, became uncoupled and careened out of control. Fortunately, everyone ended up unharmed, save for the verbal lashing this kid took from the veteran engineer in charge. After college, armed with dying Chevy convertible and a band director's salary, he enticed Elizabeth "Dayle" Williams into being his wife — although even he admits she slept on his proposal for a few days. They were married for 52 years and one day. Over that period they had many great times and their share of tough ones, but persevered through it all.
Their union also created two sons, Kenneth Wade McCune, rumored to be the favorite, and David Edwin McCune. Bud and Dayle poured their heart, soul and likely every penny of disposable income into raising these two boys into men, and those men are forever grateful. Bud taught them right from wrong, how to throw a baseball, and the proper cadence for delivering a bawdy limerick. Pretty much everything you need to survive in the world.
Bud's professional career also reflected his love of serving others. His first job out of college was as the band director for Jacksonville High School. Following that he was an elementary school principal in Prarie Grove, Ark. He continued his career as educator at the Arkansas Department of Education, where he spent 30 years ensuring that schools around our state were meeting educational standards.
In his spare time, which there was precious little of for most of his adult life, he managed to achieve the rank of Lieutenant Colonel in the United States Army Reserve. In addition to serving his country, on one particularly long on-base stint he cultivated a glorious mustache that is still revered or reviled, to this day, depending on which family member you ask.
His penchant for service and community involvement extended well beyond his professional career. In retirement he practically took up residence at the American Red Cross, winning their 2002 Volunteer of the Year Award for the Greater Ozarks Region. Bud also loved helping at Historic Arkansas Museum and at the 314 Medical Support Squadron at Little Rock Air Force Base, where he was named the 2007 Volunteer of the Year. He also was a Master Mason and a member of the Board of Stewards at Lakewood United Methodist Church — where he also served in the choir and as an usher.
While the world is faced with one less Bud, we are left with many great memories, tons of great stories and more than a few jokes we will never fully get out of our head because he told them so many times. He will be missed. But like the mustache, his legacy will endure.
He was predeceased by parents; brother, Enoch Maxwell McCune of Hot Springs Village; sister-in-law, Martha Linch and husband Jim of Conway; and brothers-in-law, Homer Williams of Harrison and Jerry Moss of Bryant.
He is survived by his wife, Dayle; son, Dr. David McCune and wife Dr. Debbie Rodriguez of Tacoma, Wash.; son, Wade McCune and wife Carolyn Darr McCune of Little Rock; grandchildren: Lauren, Erin, and Nathan McCune of Tacoma, and Nora and Evan McCune of Little Rock; sisters-in-law, Carole McCune, Hot Springs Village, Agnes Moss of Bryant, JoBelle Williams of Harrison; brother-in-law, Dr. Lowell Williams and wife Debbie of Harrison; brother-in-law, Kirby Williams and wife Clare of Hot Springs; and dozens of beloved nieces and nephews.
A memorial service will be held 3 p.m. Monday, July 14, at Lakewood Methodist Church in North Little Rock. In lieu of flowers, the family suggests memorials to Lakewood United Methodist Church General Endowment, 1922 Topf Road, North Little Rock, Ark. 72116, or Arkansas Rice Depot, P.O. Box 34427, Little Rock, Ark. 72203.
Published July 13, 2014
OBITUARY SUBMITTED BY:
Arkansas Funeral Care
2620 West Main Street, Jacksonville, AR
Phone: 501-982-3400