Sister Christine Eckart
Fort Smith, AR, 1922 - 2014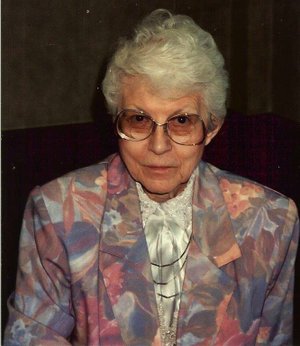 The family of Joseph and Anna Adams Eckart welcomed their daughter, Mary Gertrude, into their family May 25, 1922 in Subiaco, Arkansas. She became a novice on June 24, 1935 and received the name of Sister Christine. She was a woman of many talents. She taught elementary grades, was in charge of food services, gave music lessons, was a nurse practitioner from 1955-1972, and worked in pastoral ministry from 1983-1993. She returned to St. Scholastica and served as house coordinator and procurator until 2008.
Preceding her in death are her parents, two sisters, Sister Bede Eckart and Cecelia Gorrell; five brothers, Edward, Joseph, Eugene, Father Placidus and Vincent. Survivors include Many Nieces and Nephews and Her Religious Family.
Vespers for the dead will be July 17, 2014 at 7:30 p.m. in the Monastery Chapel. The funeral Mass will be July 18, 2014 at 10 a.m. with Rev. David McKillin as presider. Burial will be in the Monastery cemetery. In lieu of flowers, please make memorials to St. Scholastica Monastery, St. Scholastica Continuing Care Fund, P.O. Box 3489 Fort Smith, Ark. 72913. To sign the online guestbook please visit www.fentressmortuary.com.
Published July 16, 2014
OBITUARY SUBMITTED BY:
Fentress Mortuary
1805 North a Street, P.O. Box 3, Ft. Smith, AR
Phone: 479-783-6178