James Victor Roberson
Conway, AR, 1926 - 2014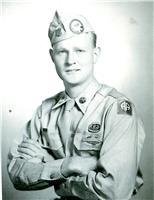 James Victor Roberson, (1926 - 2014). Christian man, son, husband, father, grandfather, great-grandfather, James Victor Roberson left this life into the loving arms of his Lord and Savior Jesus Christ, July 5th, 2014.
He was preceded in death by his parents, James Earl Roberson and Naomi Johanna Elizabeth (Seaburg) Roberson; his sister, Marjorie Naomi (Roberson) Ulbricht (Wayne); and grandson, Pvt. 2 William Andrew Long.
His final gift to this world is his body donated to Science for the betterment of mankind.
James was born August 4, 1926, on a small farm near Abingdon, Ill., and is survived by his wife of 64 years, Virginia Lee (Wilkins) Roberson; sister, Dorothy Helen (Roberson) Harrold; sons, James Mark (Karin), Keith Dean (Patricia), Dr. Kent German (Andrea), and Kris Alan (Megan) Roberson; daughters, Janet Lee (Roberson) Long (Daris), and Karen Jean Roberson. He is also survived by 20 grandchildren; and 14 great-grandchildren; many nieces and nephews.
James entered the Army at age 18, serving as an Infantry man/machine gunner in Germany during World War II, earning the Bronze Star and Combat Infantry Badge. At the end of World War II he reenlisted in the Army Airborne, making more than 20 jumps, and became a cook and baker with the 82nd Airborne.
During his lifetime he farmed, was a bellhop in Chicago hotels, and worked for UPS. After graduating Spartan School of Aeronautics in 1950 in Tulsa, Okla., as a Flight Engineer, he worked for Northwest Airlines as a mechanic in St. Paul, Minn., then was hired in 1951 as a Flight Engineer for American Airlines in Chicago, Ill., for 43 years. He and his wife moved to Conway in 1995. He was a faithful member of Harlan Park Baptist Church from 1995 until his death.
May God receive him with a "well done, good and faithful servant."
In lieu of flowers, donations may be made to Harlan Park Baptist Church, Wycliffe Bible Translators, New Tribes Mission, Leading the Way ministries of Dr. Michael Youssef, or Gideon Bible Society.
A Memorial Celebration of his life will be held at 11 a.m. Saturday, July 19th, 2014, at Harlan Park Baptist Church.
Published July 17, 2014