Duane Theodore (Ted) Dahinden
Hot Springs Village, AR, 1926 - 2014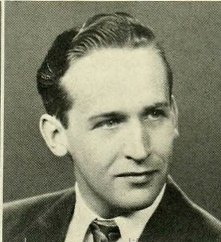 Duane Theodore (Ted) Dahinden, born in 1926 in Middletown, N.Y., husband to Else and
father to Eric and Donna, passed from this earth to the presence of God on Monday, July
21, 2014. He joined the Navy during the latter part of World War ll serving as a radioman in the Pacific until VJ day. Following the war he earned two degrees from Indiana Tech in Fort Wayne.
Following college, he began a career in aerospace as an engineer and also was commissioned in the US Navy Reserve. He served a full career, retiring as a Lieutenant Commander. He was part of several notable projects including the B-2 built by Northrop. He was an avid reader and always enjoyed a good debate. Ted was a bright light until the end and he will be greatly missed by family and friends from California to New York. He was preceded in death by his parents, Pearl and Theodore; and two brothers, Leigh and Garth. He is survived by his wife, Else; son, Eric and his wife Sherry; and daughter, Donna Schroeder and her husband Juergen. Also surviving him are two grandsons, Brian Dahinden and Ryan Burke; along with a great-granddaughter, Leila Rose Burke. There will be a memorial service held, at 2 p.m., Tuesday, July 29, 2014 at Village Bible Church in Hot Springs Village and interment will be at Walkhill Cemetery in New York.
Online guestbook: www.rollerfuneralhomes.com/chenal.
Published July 27, 2014
OBITUARY SUBMITTED BY:
Roller-Chenal Funeral Home
13801 Chenal Parkway, Little Rock, AR
Phone: 501-224-8300
http://www.rollerfuneralhomes.com/chenal