Jerome (Jerry) David Kahler
of Little Rock, AR, 1935 - 2014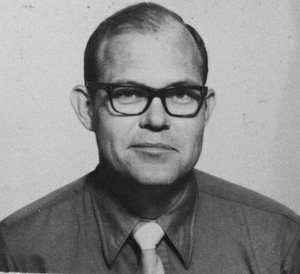 DR. JEROME (JERRY) DAVID KAHLER, born Collar, a world-traveled educator, longtime Little Rock roustabout and frequent writer of letters to the editor of this newspaper, died Sunday, July 20, of complications from surgery. He was 79.
Born in Joiner, Dr. Kahler graduated from Little Rock's Central High School, served in the Navy and earned a bachelor's degree in biology and chemistry from Arkansas State Teacher's College. He later earned a master's in microbiology and mycology and a doctorate in education administration from the University of Arkansas.
In his senior year in college he married Margaret Ellen McHenry, with whom he had two sons, both of whom also had two sons.
In 1964 Jerry embarked on a 15-year career as a globe-trotting teacher and administrator of schools, never spending more than two years in one place. He lived with his family in California, Venezuela, British Columbia, Mexico, Alaska and Bolivia, as well as Viola, Lonoke and Leachville, Ark.
In Durango, Mexico, Jerry played bridge with John Wayne, danced with Ann-Margret and once summoned Bob Dylan to the principal's office to discuss his son Jesse James' behavior in school. On a fishing trip in Venezuela, he met Neolithic tribesmen in loincloths with spears and introduced them to ice.
In Canada, he and his pals hired helicopters to drop them on remote mountains to hunt mountain goat. He was an avid fisherman and hunter in his younger years; in later years he decided he was not so mad at animals after all.
He was a gifted storyteller, holding audiences spellbound with colorful accounts of his exotic adventures, able to conjure laughter on command.
In his later years Jerry divided his time between the Little Rock home of his longtime girlfriend, Lynn Bulloch, and his "immobile home" on the Arkansas River in Wright. And almost every year he paid a visit to his boys, in Costa Rica and California.
Dr. Kahler is survived by sons, Paul Collar of Costa Rica and Karl Kahler of San Jose; their sons, Orpheus Collar of Los Angeles, Aladdin Collar of Oakland, Jordan Kahler of Berkeley and Nathan Kastle of Manhattan; his adoptive granddaughter, Libby Kastle of Aurora, Colo.; and his older brother, Grant Collar of Chico, Calif.
Services will be held Thursday, July 31, at 11 a.m. at the Arkansas State Veterans Cemetery in North Little Rock. In lieu of flowers, the family suggests letters to the editor.
Published July 27, 2014