Steve G. Yanker
of North Little Rock, AR, 1917 - 2014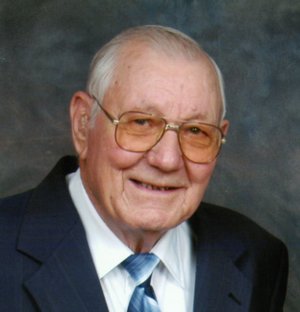 STEVE G. YANKER, age 97, of North Little Rock died Friday, July 25, 2014. He was born Jan. 21, 1917 in Morrilton, Ark. (the youngest and last of 12) to the late Michael and Amelia Fraenzle Yanker. Steve is preceded in death by his wife of 72 years, Eleanor Yanker; and his siblings.
He attended Sacred Heart Catholic School in Morrilton then met and married Eleanor Hoelzeman in November of 1939. Steve was a Navy Veteran of WWII, a charter member of the Knights of Columbus Council 6253, longtime member of St. Mary's Men's Club, and current member of St. Patrick's Catholic Church.
He is survived by his children, Mary Frances Kremers of Sherwood, Jerry Yanker (Ara) of North Little Rock, Marilyn Powers of Sherwood, and Carolyn Wenger of North Little Rock; 11 grandchildren, Pam Dietz of Knoxville, Tenn., Nancy Lawson (Bobby) of Memphis, Tenn., Michael Estes (Dana) of Cave Springs, Mark Yanker of Katy, Texas, Amy Ayers (Chad) of Miamisburg, Ohio, Kenny Gonzales (Kelly) of Memphis, Tenn., Steve Gonzales (Faith) of Sherwood, Mandy Lowe of Sherwood, Donna Moore (Chuck) of North Little Rock, David Idom (Lindsay) of Little Rock, and Kimberly Idom of Fayetteville; 16 great-grandchildren, Brad Dietz (Mallory), Kristin Nelson (Jeffery), and Rebecca Dietz, Ashley and Alicia Lawson, Melissa Estes, Kayla and Tanner Ayers, Keaton Dockery-Yanker, Quinn and Madeline Gonzales, Gabe Gonzales, Tyler Aaron and Brianna Lowe, and Jessica and Joshua Moore; and many nieces, nephews and extended family members.
Special thanks the wonderful caregivers at Sherwood Nursing Home and Gentiva Hospice.
Mass of Christian Burial will be Wednesday, 10 a.m. July 30 at St. Patrick's Catholic Church. Visitation will be Tuesday 6 p.m. with Rosary at 7 p.m. at NLR Funeral Home. Visit www.SmithFamilyCares.com to sign the online guest register. Memorials may be made to NLR Catholic Academy, 1518 Parker, NLR 72114.
Published July 27, 2014
OBITUARY SUBMITTED BY:
North Little Rock Funeral Home
1921 Main St, North Little Rock, AR
E-mail: mail@nlrfh.com
Phone: 501-758-1170