Gloria F. Wiggins
of North Little Rock, AR, 1923 - 2014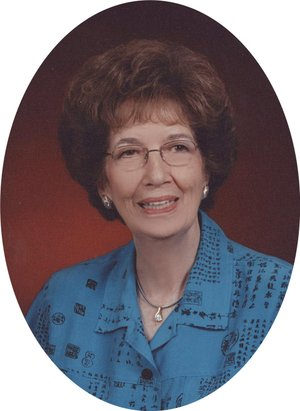 Gloria F. Wiggins, 91, of North Little Rock, Ark., passed away on Monday, July 28, 2014. She was born in the little town of Wheeler, Texas on May 17, 1923 to Frankie and George Stanley. She is also preceded in death by er siblings, G.L. and Felice.
She spent most of her younger years in Shamrock, Texas. While attending West Texas State University, she met the love of her life and soul mate, Austin Wiggins (aka Big Wig). They married on June 23, 1942. He was a dive-bomber pilot in the Marine Corps Aviation, so she became a "service"wife. During those years, she worked at a bomb loading plant, attended college and even got her Private Pilots license! She was very proud of her 66 solo hours!
After the war, they lived in Quantico, Virginia. Both of her daughters, Carol and Vicki were born during that time. Although they moved around several times, Gloria really enjoyed living Hawaii. She had always drawn and painted, but she really became serious about oil painting while living on the tropical isle of Oahu.
They returned to the states and after 15 years of service in the Marine Corps, Big Wig decided to switch careers to homebuilding. They moved to Little Rock in 1956 and built their first subdivision off of West Markham. While they were struggling to build homes and get their company off the ground, Big Wig traveled and sold heat and air conditioning systems to dealers. During this time, "Glo" took over the foreman duties. She got to know the carpenters, the plumbers, painters, etc., and they referred to her as "Miz Wig". It later supplied a great name for a personalized license plate!
They were blessed with a little surprise in 1965, when Randy was born. He tagged along with his dad on the job sites, where they become know as Wig and Wag. Gloria and Big Wig built houses and developed sub divisions for over 25 years. They also traveled extensively to places such as Europe, Asia and the Orient.
She retired in 1998. Her hobbies included painting, writing, hosting lots of family gatherings, dancing and throwing the best garage sales ever! She was a Signature Member of Mid-Southern Watercolorists and had fourteen paintings accepted and shown in the Arkansas Arts Center. She also received numerous awards for her artwork.
She taught us to always be positive and anyone saying anything negative would be told "Cancel, Cancel". She was a member of First United Methodist Church of North Little Rock and the Triune Sunday School Class. She loved her Lord and Savior, Jesus Christ and would spend many hours reading her bible daily.
She is survived by her children, Carol Carlan, Vicki and Tommy Jones, Lisa and Randy Wiggins, all of North Little Rock, grandchildren, Bryan Carlan, Jaclyn Williams, 3 great grandchildren, a niece, April and (Charlie) Prichard and her dear special friends, Marian Botsford and Marian Hill.
Services include a visitation from 5-7 p.m.on Wednesday, July 30 at Roller-Owens Funeral Home on JFK Blvd. The funeral service is Thursday, July 31, 2 p.m.at First United Methodist Church of NLR, 6701 JFK Blvd. Place of interment is Rest Hills Memorial Park. Pallbearers are Dustin Colebank, Mike Corker, Denny Davenport, Harvey Gardner, Mike Glaze, Clay Smith, Roy Treat and Jay Warren. Online guestbook www.rollerfuneralhomes.com/owens.
Published July 30, 2014
OBITUARY SUBMITTED BY:
Roller-Owens Funeral Home
5509 John F. Kennedy Blvd., North Little Rock, AR
Phone: 501-791-7400