Cleo Marilyn Fish Bryan
Taylor, AR, 1926 - 2014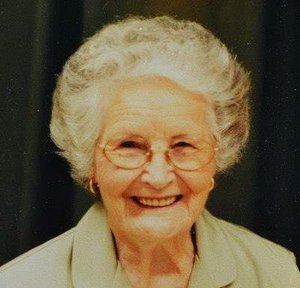 Funeral services for Mrs. Cleo Marilyn Fish Bryan, age 87, will be held at 10 a.m, Thursday, July 31, 2014 at the Forest Grove Missionary Baptist Church, Walker Creek, AR, with Bro. Joseph Stacks and Bro. Todd Pickard officiating. Eulogy will be by Dr. Wayne Willis. Burial will follow at the church cemetery under the direction of Bailey Funeral Home of Springhill, La. Visitation will be Wednesday, July 30, 2014, from 5 p.m. until 8 p.m. at Bailey Funeral Home in Springhill, La.
Marilyn was a beloved mother, grandmother and trusted friend to many. She went to be with her Heavenly Father on July 28, 2014 after a brief and unexpected illness. She was born in Texarkana, Ark. on Oct. 11, 1926 to Roy and Alice Simpson Fish. She was preceded in death by her parents, her husband Hubert, her sister Alice Faye Willis, and an infant daughter, Jane. She lived most of her life at Walker Creek in Lafayette County.
She is survived by her brother, Roy M. Fish and wife, Ann of Shreveport, La.; daughter, Judy Bishop and husband, Dickie of Mountain View, Ark.; sons Andy Bryan and wife, Darlene of Taylor, Ark., Mark Bryan and wife, Yolanda of Magnolia, Ark., and David Bryan and companion, Kristine of Tucson, Ariz.; grandchildren Allen Bishop, Alice Bishop Clark, Bryan Bishop, Courtney Bryan Riddle, Nathan Bryan; five great-grandchildren; and many dear nieces, nephews, cousins and friends.
Marilyn was a tireless public servant to the very end of her life. She was a founding member and secretary of the Forest Grove Cemetery Association, serving continually until several days before her death. She was a founding member and secretary of the Walker Creek Volunteer Fire Department, former secretary of the Walker Creek Community Center Board, long time secretary-treasurer for the Walker Creek/State Line Water Association, a historian, and genealogist. She served on the board of the SW Regional Archives at Old Washington, Ark., was a member of the National Society of the Daughters of the American Revolution, and a member of the Friends of Lake Erling Association. She was a member of Forest Grove Missionary Baptist Church since 1946. She married Hubert Bryan on May 2, 1946. On Dec.18, 1952, Hubert was in an accident that resulted in the amputation of both legs. Marilyn devoted her life to helping him live a vibrant and normal life. She used her hands and her head working in the family business until a week before her death. She was also an excellent cook, seamstress, and homemaker. Marilyn enjoyed gardening, especially her flowers. She was a gifted writer and a keen observer of local, national, and world affairs. She wrote hundreds of letters to the editor which were published in local papers, including the Arkansas Gazette, Shreveport Times, Democrat•Gazette, and Time Magazine. In recent years she enjoyed expressing her thoughts and engaging in lively discussion on Facebook. Her faith in God sustained her through many trying times and many of her prayers were answered. She wanted everyone to know she had a happy life.
Pallbearers will be Nathan Bryan, Allen Bishop, Bryan Bishop, Lee Mcgouirk, Jason Riddle, Cody Goodwin, Dusty Whitehead, and Mikie Whitehead. Sign our online guest book at www.baileyfuneralhome.net.
Published July 30, 2014
OBITUARY SUBMITTED BY:
Bailey Funeral Home
400 North College Avenue, P.O. Box 1757, El Dorado, AR
Phone: 870-863-5141