Mary Adalaide Johnson Hawkins Hall
of Little Rock, AR, 1912 - 2014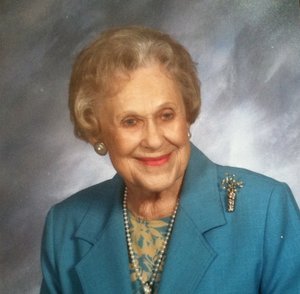 Memorial services for MARY ADALAIDE JOHNSON HAWKINS HALL, age 101, of Little Rock, Ark. will be at 2:30 p.m., Wednesday, June 4, 2014 at St. James' Episcopal Church, Greenville, Miss. She died peacefully May 28 at Parkway Village retirement facility in Little Rock, Ark. Arrangements are under the direction of Boone Funeral Home of Greenville, Miss.
Known affectionately as "Mimi" by her grandchildren, Hall touched countless lives in Oklahoma, Arkansas and Mississippi through her love of music, education and giving.
Mary was born May 31, 1912, in Porter, Okla., to Valter Allison Johnson and Sarah Potts Johnson. Mary's great-grandfather, Kirkbride Potts, established Pottsville, where she spent many summers and holidays as a child in the family's home, an acclaimed example of pioneer architecture that was entered in the National Register of Historic Places in 1970 and is now a museum.
Mary graduated with honors from Wagoner (Okla.) High School in 1930, winning the state piano competition and becoming the Oklahoma state typing champion. She enrolled in 1930 at Henderson State Teachers College in Arkadelphia, where she was homecoming queen and an honor student. While attending Henderson, Mary met her future husband of 34 years, Benjamin Franklin Hawkins II, of Memphis, a graduate engineer of Pratt Institute in New York City. Following her marriage, Mary and Benjamin moved to Columbus, Miss., where he worked in the highway construction business and she continued her education at Mississippi State College for Women. Mary was the first married student to enroll and graduate from the "W," the latter occurring in 1939 (bachelor's degree in education, with a minor in music). She earned the status of Golden Girl in 1989 and remained active in the Alumni Association until her death.
Mary was active throughout her life in the Episcopal Church and in numerous civic and service organizations, including heart and diabetes fund-raising while living in Lake Village, Ark. and Greenville, Miss.
An accomplished pianist and organist, Mary was on the board of the State Music Teachers Association in Arkansas for many years, a member of the National Guild of Piano Teachers and a board member of the Arkansas Parent Teacher Association. Mary was also instrumental in starting the state's public school lunch program and was a member of the Arkansas Democratic Central Committee.
The Lake Village Chamber of Commerce named Mary its "Woman of the Year" in 1965.
Following the unexpected death of Benjamin in 1967, Mary remained active by traveling and entertaining in her home. Mary moved to Greenville after marrying Francis Everett Hall in 1976.
Mary was a member of the Greenville Garden Club, a charter member of the Community Concert Association in Greenville, a patron and board member of the Greenville Symphony Association and Delta Debutante Club and longtime member of the Lake Village and Greenville golf and country clubs. At the age of 82, Mary joined a group of prolific writers in the Delta, and subsequently published a book of her childhood memories, still cherished today by her children and grandchildren.
Mary moved to Little Rock in 2000, shortly after the death of Francis. She was an avid bridge player, a member of the Little Rock Music Coterie and regularly attended the Arkansas Symphony Orchestra concerts.
Mary continued to share her love of French hand sewing and knitting with others until her death.
Mary was preceded in death by her brother, Col. James Allison Johnson; a grandson, Blair Foster Abington; and a daughter, Sarah Frances "Sancy" Hawkins McCool. Survivors include a daughter and son-in-law, Mary Mills Hawkins Abington and Ken Abington of Collierville, Tenn.; a son and daughter-in-law, Benjamin Franklin Hawkins III and Minor Hawkins of Greenville; a daughter and son-in-law, Barbara "Barbie" Allison Hawkins James and Bruce James of Little Rock; 11 grandchildren; 15 great-grandchildren; and two great-great-grandchildren.
In lieu of flowers, memorials may be made to the Emmanuel Episcopal Church Endowment Fund, c/o the Episcopal Diocese of Arkansas, P.O. Box 164668, Little Rock, Ark. 72216, or St. James Episcopal Church, 1026 South Washington Ave., Greenville, Miss. 38701.
There will be a visitation from 1:30-2:30 p.m. Wednesday at St. James' Parish Hall in Greenville, Miss.
Published June 1, 2014