Sally Rand Williams
Rogers, AR, 1927 - 2014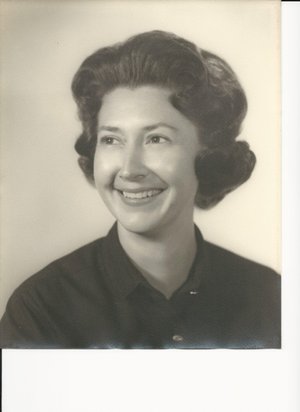 Sally Rand Williams passed away peacefully on May 30, 2014. She was born in Rogers on July 11, 1927 to Hayden G. and Helen (Collins) Rand. She was the granddaughter of prominent businessman, J.O. Rand and worked at his wholesale grocery business in downtown Rogers during her high school years and helped feed the many citizens lining up outside the grocery during the hard depression years. In her youth, she played clarinet in the band, showed prowess on the basketball court and was a gifted pianist, playing in the jazz band along with her future husband who played the saxophone. In summers, Sally rode along with her father in his grocery truck on his deliveries around Northwest Arkansas and Southern Missouri. Along with fellow high school classmates, she co-wrote the alma mater for Rogers High School.
Upon graduation from Rogers High School, Sally attended the University of Arkansas, graduating magna cum laude with a degree in Business Education, eventually completing a master degree in Cooperative Education. She was a member of the Delta, Delta, Delta sorority and Sigma Chi sweetheart. After graduation, she married Richard E. "Dick" Williams of Rogers and worked for the Dean of the Business School while Dick finished law school. They settled on Persimmon Street in Rogers to raise a family, Sally later becoming a teacher and Dick became Postmaster. The couple was married for 50 years, eventually building a home on Beaver Lake to enjoy in their retiring years.
Mrs. Williams was a long time Business teacher at Rogers High School, head of the Cooperative Education Department, sponsored many activities and clubs, and received many accolades, including Teacher of the Year, during her long career. While teaching, she raised three children, taught Sunday school, played piano for Bible School, taught Red Cross swimming at Lake Atalanta, sang in the Rogers Community Choir and volunteered with Panhellenic and other Rogers community activities. Sally became known for her rather quirky vocabulary. When she couldn't find what she considered an appropriate word or phrase to describe something, she simply made up one. Her fellow teachers dubbed them "sallyisms". Unfortunately, her children, perceiving them to be in common usage, would frequently get strange looks when repeating them.
Upon retirement, Sally enjoyed spending time with her children and grandchildren, boating, playing golf, observing nature, working crossword puzzles, reading, playing cards, watching jeopardy and having a five o'clock Wellers on the deck, toasting her friends. She and Dick traveled together via RV, plane and train throughout the U.S. and places as far flung as Hawaii and Europe, where two of her children resided. After Dick's death in 1997, she continued her world travels into her 80s with her best friend Joyce Slaughter and occasionally her cousin, Sidney Hewgley to include a train trip across Canada and one hair-raising adventure out west in a rickety RV through the mountains of Utah. She maintained a keen interest in the Rogers community and its historic preservation, supported the Rogers Historical Museum and was a member of the First United Methodist Church.
Sally was extremely proud of all her children, grandchildren and great grandchildren, thought them all perfect, and voiced such to anyone who cared to listen. Possessed of a sweet, generous and uncomplaining nature, love of life and family, a keen intelligence, sharp wit and great sense of humor, she continually looked for the good in everyone and was beloved by all who were privileged to know her. Her motto: "Count your age by friends, not years. Count your life by smiles, not tears."
Mrs. Sally Rand Williams is survived by her daughter, Anne Kruger and husband Mark of Rogers; daughter, Robin McClanahan and husband COL(R) Jack of Rogers; and son, LTC(R) David Richard Williams and wife Amy of Stephens City, Va.; eight grandchildren, Coach Kristopher "Kip" Kruger of Rogers and wife Dr. Laura Kruger of Cincinnati, Ohio, Kyle Kruger, P.E. and wife Anna of Norman, Okla., Polly Williams of New York City, Adam Williams of Harrisonburg, Va., James, Hayden and Stella Mae Williams of Stephens City, Va., and the Reverend Stratford "Bo" Bannister and wife Annette of Lafayette, Ind.; four great-grandchildren, Joy, Strat, Beth and Ben Bannister of Lafayette, Ind.; also by her Aunt Virginia Rand Smith of Rogers; sister-in-law, Regina Rand of Sebastopol, Calif.; nephew, John Williams of Rogers; cousins, Sidney Hewgley of Springdale and John Hickman Sr. of Little Rock; and numerous other cousins and grand dogs.
She is preceded in death by her husband, Richard E. Williams; brother, Hayden G. Rand Jr.; brother-in-law, Claude M. Williams Jr.; a plethora of dogs; and her beloved cat, Socks.
Visitation will be at First United Methodist Church on Friday, June 6, 2014 at 1 p.m. Memorial service at the church will begin at 2 p.m.
Memorials may be made First United Methodist Church, Rogers Historical Museum or the charity of your choice.
Funeral arrangements are being provided by Rollins Funeral Home in Rogers.
Published June 1, 2014
OBITUARY SUBMITTED BY:
Rollins Funeral Home
1401 W. Hudson Rd, Rogers, AR
Phone: 479-631-6617