Sue Carter
Hazen, AR, 1926 - 2014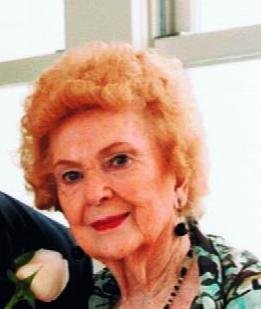 Sue Carter passed away on Tuesday, May 27, 2014. Rebecca Susan Hawley was born to John and Virginia Hawley on Tillar, Ark. on March 5, 1926. A child of the depression, Sue learned early that joy came not from material things, but from within. She carried this with her throughout her life, finding joy in love of her family and friends and bringing joy all along the way.
Sue was All-State basketball in high school. As a senior, she was Arkansas Oratory Champion, and went on to place second in the National Oratory Competition, being the only female contestant. She graduated from the University of Arkansas with honors where she received a degree in Home Economics. She was 1948 Agri Queen and a Razorback Beauty. She was selected along with a small group of women to bring back the Epsilon Chapter of Zeta Tau Alpha to the campus of WWII.
Sue loved to cook and entertain. One of her recipes for Cajun Okra over rice won a national contest, appearing in the cookbook, "American Buffet." Known for her warm and encouraging nature, Sue was a beloved and respected leader in her community. She was an active and faithful member of Hazen United Methodist Church and took charge of organizing meals for services for over 30 years. Sue was an extraordinary bridge player.
She was preceded in death by her husband, Alan Carter, of Hazen. For 57 years they shared their lives and raised five children: Becky Wakefield of Dallas, Texas; Alan Carter of New York, N.Y.; Dr. Virginia Lewis of Prairie Groove, Ark.; Dr. Niki Carter of Little Rock, Ark.; and Dr. Christi Bruening of Mt. Sterling, Ky. She was SuSu to her eight grandchildren; and four great-grandchildren.
Visitation will be Friday, May 30 for 5-7 p.m. at the Westbrook Funeral Home in Hazen, Ark. Her memorial service is Saturday, May 31 at 10 a.m. at the Hazen United Methodist Church. In lieu of flowers, memorials can be made to the Hazen United Methodist Church, The Hazen Cemetery Fund, or the American Heart Association.
Published June 1, 2014