Eddie Reed
Washington, DC, 1953 - 2014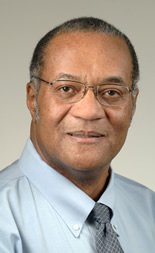 Eddie Reed, M.D. was born on Dec. 17, 1953 to Floyd and Gennora Reed. He passed away on May 28, 2014. Eddie, guided by his parents, found his Lord and Savior at an early age. He went on to attend Mildred Jackson School and graduated from Hughes High School. He attended Philander Smith College in Little Rock, Ark. and continued his education by obtaining his medical degree at Yale University in 1979. Eddie completed an internal medicine degree from Stanford University in 1981. He became an authority regarding the actions and use of two important cancer drugs, Cisplatin and Taxol. As a renowned oncologist, Dr. Reed's expertise has been sought by many premier medical institutions.
Dr. Reed held multiple, high profile positions: Chief of the Clinical Pharmacology Branch at the NCI (National Cancer Institute); Professor of Medicine and Director of the Mary Babb Randolph Cancer Center at the West Virginia University in Morgantown, W. Va.; Director of the Division of Cancer Prevention and Control at the CDC (Centers for Disease Control and Prevention) in Atlanta, Ga.; Clinical Director and Professor of Oncologic Sciences at the Mitchell Cancer Institute of the University of South Alabama in Mobile, Ala.; and Clinical Director of the National Institute on Minority Health and Health Disparities at the National Institutes of Health in Washington, D.C. Dr. Reed has served on numerous boards to cancer centers, served on federal and state health policy panels, and his research has been used in over 300 scientific publications.
Throughout his career, Dr. Reed became internationally known in the cancer research field for his two overriding interests, cancer drug development and cancer care for the underserved. In his honor, his friends and colleagues have established the Dr. Eddie Reed Fellowship Program in Global Oncology. It will bring cancer care trainees from Africa to Massachusetts General Hospital and its collaborators at Harvard University and other American academic centers. Contributions can be sent directly to Lindsay Simpson at the MGH Development Office, 100 Cambridge St. Suite 1310, Boston, Mass. 02114 and will be directed to the "Dr. Eddie Reed Exchange Fellowship Fund." Your contribution in honor of Eddie would be greatly appreciated.
Dr. Reed was preceded in death by his parents, Mr. and Mrs. Floyd L. and Gennora Reed; his son, Edward Lardino Reed; and his siblings, Floyd L. Reed Jr., Ray Reed, and Cora Reed. He is survived by his wife of 19 years, Mrs. Meenakshi Reed; and by his siblings, Ms. Johnnie Reed, Mrs. Forrestine L. Witherspoon, Dr. and Mrs. Hazell & Loistine Reed, Mrs. Dorothy Edwards, Dr. and Mrs. Pearlie Sylvester & Lesia Reed, Ms. Tommie Reed, Ms. Faye Reed, Mr. and Mrs. Michael & Janice Reed Duvall, Dr. Beatrice Reed, Rev. Elroy Reed, Mr. and Mrs. Tom & Mary Wilson, Ms. Rachel C. Reed, Mr. and Mrs. Chauncey & Gennora Reed Willis, and Ms. Elvon Reed. Eddie also has numerous nieces; nephews; cousins; aunts; uncles; extended family; close friends; and colleagues.
Funeral services will be held at 11 a.m. on Saturday, June 7, 2014 at New Sardis Baptist Church 7739 East Holmes Road, Memphis, Tenn. 38125 with burial immediately after at Paradise Gardens Cemetery in Edmondson, Ark.
Wake and Visitation will be from 6-8 p.m. on Friday, June 6, 2014 at Anthony Funeral Home, 135 S. 16th Street, West Memphis, Ark. 72301.
Published June 2, 2014
OBITUARY SUBMITTED BY:
Anthony Funeral Home
135 South 16th Street, West Memphis, AR
Find it at: corner of 16th and Polk
E-mail: anthonyfuneralhome@sbcglobal.net
Phone: 870-735-8680
http://www.anthonyfuneralhome.com/