Leroy Washington McIlwain
of Mabelvale, AR, 1924 - 2014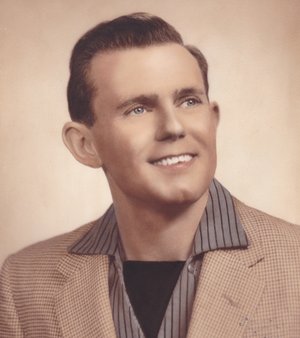 LEROY WASHINGTON MCILWAIN, 89 of Mabelvale, died Friday, May 30, 2014. Leroy was born Dec. 23, 1924 in County Line, Miss. to the late Lawrence and Emma McIlwain. He is also preceded in death by his first wife, Jean Poole McIlwain; seven sisters; and one brother.
Leroy was a 1947 graduate of Meridian, MS High School. He worked for Lockheed Aircraft in Meridian, retiring from Air Force Civil Service. He was an avid golfer, enjoyed wood working, and was a loyal Atlanta Braves fan. He was a member of Fellowship Church. He is survived by his wife of 36 years, Lois McIlwain of Mabelvale, Ark.; one son, Alan Craig McIlwain of Pascagoula, Miss.; two step-children, Darlene Hendrickson (Robert) and Darrell Trickett (Debbie), all of Mabelvale, Ark.; six grandchildren, Leeanne Lashlee (Jeremy), David Young (Marissa), Anna Young and fiancé G.T. Ikard, Katie Young, Jesse Trickett and Audra Trickett; and one great-grandchild, Lily Young, all of Mabelvale. He is also survived by two special step-granddaughters, Elizabeth and Angela Hendrickson; and numerous nieces and nephews. He is also survived by his loyal canine companion, Maggie.
Visitation will be at Barham Family Funeral Home in Meridian, Miss. from 11 a.m to 1 p.m. on Wednesday, June 4, 2014, with graveside service immediately following at 2 p.m. at Pine Grove Cemetery in Collinsville, Miss. Rev. Jack Giles will be officiating. www.arkansasfuneralcare.com.
Published June 2, 2014