Marvin Jarrell Rainwater
of Little Rock, AR, 1926 - 2014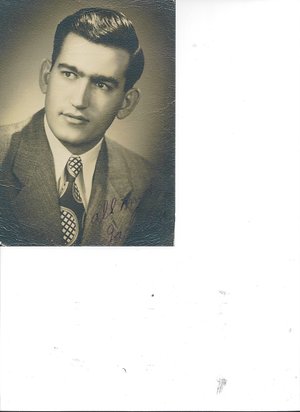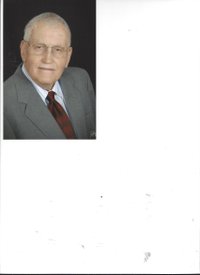 MARVIN JARRELL RAINWATER, age 87, died May 31 at his home in Little Rock. Known as Jarrell to his friends and family, he was born to William and Mollie (Richardson) Rainwater in Morrilton on Sept. 10, 1926. He was proud to be a part of the Morrilton Class of 1944 and attended every class reunion. He joined the Navy in 1944 and served on the USS Bolster stationed in Japan after the war. They helped clear Toyko Harbor. After discharge in 1946, he attended Arkansas State Teachers College (now UCA). On June 6, 1948, he married Mary Martin of Houston, Texas. He went to work at the Post office. They lived in Houston until 1953, then moved to Little Rock, Jarrell worked for the Postal Service for 37 years. After that he worked for Farrior's for 10 years. He traveled over a five state area to post offices selling uniforms to letter carriers. In June 2013 he attended the State Convention of Letter Carriers in Hot Springs to receive his pin representing 60 years membership in the National Association of Letter Carriers Union. He had previously served as Director of Retirees for several years. He was a member of Christ the King Catholic Church, AARP Chapter 34, American Legion Post #1 and NARFE.
Survivors include his loving wife, Mary Rainwater of 66 years; son, Paul, his wife Frances of Scott; grandchildren include: Michele Stevens of Bowling Green, Ky., Adam Rainwater of Lonoke, Paul Rainwater Jr. of Little Rock, Valerie Tolentino (Julio) of Little Rock, Andy Rainwater, John Rainwater and Veronica Rainwater of Scott. He is preceded in death by his parents; daughter, Sharon Whiting; and two brothers, Virgil and Orrell.
Mass of Christian Burial will be at 11 a.m. Tuesday, June 3 at Christ the King Catholic Church, burial will be 2:30 p.m. at Campground Cemetery in Morrilton, Ark. Visitation will be Monday, June 2 from 6–7 p.m. with Rosary starting at 7 p.m. at Christ the King.
Special thanks to his caregivers Lakeshia Young, Catherine Calhoun, Paul Rainwater Jr, Beverly Lewis and the other members of Arkansas Hospice who so lovingly cared for him. Memorials may be sent to AARP Chapter #34, 1003 Loretta Lane, Little Rock, Ark. 72227 or Christ the King Catholic Church Capital Campaign, 4000 Rodney Parham Rd., Little Rock, Ark. 72212.
Arrangements by Little Rock Funeral Home, 8801 Knoedl Ct, Little Rock, Ark. (NW Corner of I630 and Barrow Rd) (501)224-2200. Mr. Rainwater's online guestbook may be signed at www.littlerockfuneralhome.com.
Published June 2, 2014
OBITUARY SUBMITTED BY:
Little Rock Funeral Home
8801 Knoedl Ct., Little Rock, AR
Phone: 501-224-2200