Mary Elizabeth Johnson
of Little Rock, AR, 1934 - 2014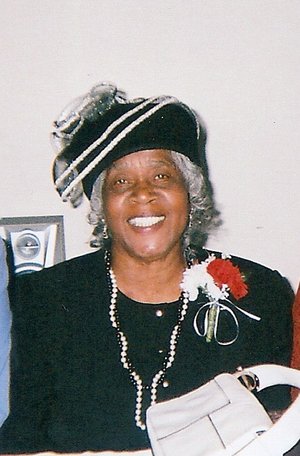 Mary Elizabeth Johnson 80, of Little Rock, Ark., passed away peacefully June 2, 2014.
She was preceded in death by two daughters, Emma Franks-Bynum and Luevenia Franks-Harris; one son, Hayward Franks, Jr; and grandchildren, Tierra King and Kieren Foreman. Cherishing her special memories are: daughters, Mae Hurst, Bernice Lester, Ella Davis, Ollie Booker and Elizabeth (Billy) Burris; son, Destery (Mary) Franks; 25 grandchildren; 41 great-grandchildren; 14 great-great-grandchildren and a host of nieces, nephews, other relatives and church family.
Home going services will be Saturday, June 7, 2014, 12 noon, at St. Peter Missionary Baptist Church, 3518 W. 7th Street, Little Rock, Ark. Interment will follow at Elmlawn Cemetery. Family visitation: Friday, June 6, 2014, 6-7 p.m., at Ruffin & Jarrett Funeral Home, 1200 S. Chester St., LR (501) 372-1305.
Published June 6, 2014
OBITUARY SUBMITTED BY:
Ruffin & Jarrett Funeral Home
1200 Chester St., Little Rock, AR
Phone: 501-372-1305