Carl E. Hoelzeman
Morrilton, AR, 1929 - 2014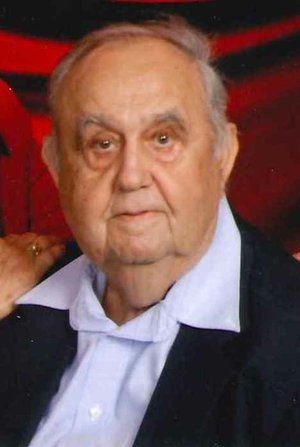 Carl E. Hoelzeman, age 85, of Morrilton, passed away, Saturday, June 7, 2014. He was born April 22, 1929 in Morrilton, Ark. to Carl P. Hoelzeman and Nina Nichols Hoelzeman. He was a graduate of Sacred Heart School and a life time member of Sacred Heart Church.
He was preceded in death by his parents; infant son, Robert; brother, Robert E. Hoelzeman; and sister, Frances Yarberry.
Survivors include his wife, Rita Hegeman Hoelzeman of Morrilton; sons, Ron (Vicki) Hoelzeman of Fairfield Bay, and Larry (Elisa) Hoelzeman of Madison, Ala.; brothers, Jim (Pat) Hoelzeman of Chicago, Ill., and Joe Hoelzeman of Conway; sisters, Helen Burnett of Tulsa, Okla., and Nancy Montgomery of Reidsville, N.C.; grandsons, Eric (Ashley) Hoelzeman of Morrilton, and Keith (Amanda) Hoelzeman of Maumelle; granddaughters, Anna (Seth) Livingston of Fayetteville, Ali (Keith) Nicholson of Bella Vista, and Alana Hoelzeman of Alabama; five great-grandchildren; and a host of nieces and nephews.
Funeral mass will be 10 a.m. Wednesday, June 11, at Sacred Heart Catholic Church with burial at Sacred Heart Cemetery by Harris Funeral Home of Morrilton. Celebrant will be Father Jack Harris.
Rosary will be 6 p.m. Tuesday, June 12, at Harris Funeral Home with visitation following.
Pallbearers will be Eric Hoelzeman, Keith Hoelzeman, Seth Livingston, Keith Nicholson, Jim Yarberry, Todd Faust, Shawn Hoelzeman, and Doug Henson.
Memorials may be made to Sacred Heart School Endowment Fund.
Online guestbook: www.harrisfuneralhomes.net.
Published June 9, 2014
OBITUARY SUBMITTED BY:
Harris Funeral Home, Inc.
118 South Moose Street, P.O. Box 439, Morrilton, AR
Phone: 501-354-4575
http://www.harrisfuneralhomes.net/