Edmond L. (Buck) Layfield
Benton, AR, 1926 - 2014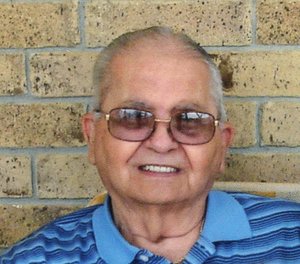 On Saturday, June 7, Edmond L. (Buck) Layfield, 88, of Benton was received into the open arms of Jesus. For the past two years, he had been living at Four Seasons Residential Care Center. He was born on May 22, 1926, in Harmon, La., to Edmond L. Layfield Sr. and Martha Mae Layfield, who preceded him in death. Before his retirement, he had worked 37 years as a maintenance mechanic for Reynolds Metals, Benton. He was married twice, first to Helen Talmage Bledsoe on March 10, 1944, in Benton and, after her death, to Viola E. McWhorter on Aug. 26, 1980, in Benton. She preceded him in death as did a great grandson, Evan Powell. He had been the only surviving member of a family of two brothers and five sisters.
He is survived by daughters, Troyce (Walter) Maner and Jeannie (Paul) Ottens; and by a step-daughter, Delorse (Russell) Caldwell, all of Benton; by grandchildren, Tim Maner, New York, N.Y., Mark (Deb) Ottens, Oxford, Miss., and Paula (Michael) Powell, Benton; and by two step-grandchildren, LeAnn Edmondson, Benton, and Lana (Greg) Brown, Bryant. He had eight great-grandchildren.
During World War II, he was deployed by the U. S. Army to defend Seattle, Wash., where he operated an anti-aircraft gun emplacement on a hill overlooking the Boeing plant where bombers were manufactured. He was a 32nd degree lifelong mason at Lodge #34 F&AM where, for 25 years, he served as secretary. He was a longtime member of the American Legion and a deacon at Forest Hills Missionary Baptist Church of Benton.
Pallbearers include Wesley Barnett, Joe Berg, Gary Harris, David Hendrix Jr., Jack McWhorter and Tom Ottens.
Visitation is Monday, June 9, 6-8 p.m., with the funeral service on Tuesday, June 10, 10 a.m. at Ashby Funeral Home.
In lieu of flowers, donations may be made to Gentiva Hospice or the Saline County Humane Society.
Online guest book at www.ashbyfuneralhome.com.
Published June 9, 2014
OBITUARY SUBMITTED BY:
Ashby Funeral Home
108 West Narroway, Benton, AR
Phone: 501-778-2544