B. Wallace Hunton
Fort Smith, AR, 1922 - 2014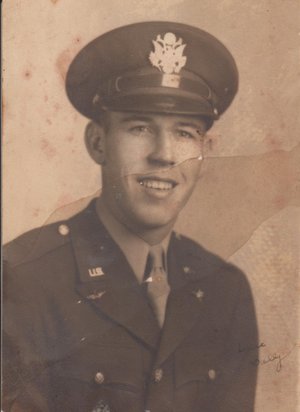 B. Wallace Hunton passed away Sunday, June 8, 2014 in Fort Smith, Arkansas. He was born at Hartford, Arkansas Aug. 17, 1922 as the only child of Eugene S. Hunton and Marjorie Marie Hunton of Hartford. He was a graduate of Hartford High School, and the University of Arkansas with a B.S. in Chemical Engineering. He served in the U.S. Army Air Force in World War II as a 1st Lt. Weather Officer, and in Photo and Radar Intelligence.
Following World War II, he briefly taught chemistry and coached boys' athletics at the Hartford Schools from 1946-51. During this period, his teams won District Titles in football and basketball, and led the Hustlers to a State title in Track and Field. He returned to his University engineering field in 1951 when he joined Reynolds Metals Company as a Process Engineer at Bauxite, AR. He served in multiple roles culminating as Plant Superintendent. He was then transferred to the Corpus Christi Sherwin Plant as the Assistant Plant Manager. Wallace was particularly proud of his qualification in both Arkansas and Texas as a registered professional engineer. Assignments as Plant Manager followed, with the Sherwin Plant in Texas, then at Alpart in Jamaica. Late in his career, he served on corporate assignments, both in Richmond Va., and in Western Australia constructing a new aluminum facility. He retired as Plant Manager in Bauxite.
Hunton was involved in Boy Scouting, joining as a Lone Scout in Hartford at age 12. He was then a part of Troop 50 at Hartford. He became an Eagle Scout, and was a member of the Westark Council troop that attended the first National Jamboree in Washington D.C., in 1937. Later, he was a Cubmaster, Scoutmaster, and a District Chairman in the Ouachita Area of Hot Springs, Arkansas. He received the Silver Beaver Award from this Council for his service to boyhood. Later while residing in Texas, he served as President of the Gulf Coast Council in Corpus Christi, Texas.
He became a member of the United Methodist Church at an early age and was active in the Church in various areas that he lived and worked. On retirement, he served as Chairman of the Board of Trustees of the Goddard United Methodist Church of Fort Smith.
He was a mentor and life coach to many---students, scouts, and family. Wally was a wonderful father and grandfather—family was the utmost priority to him. He loved fishing and watching sports, particularly if his family or the Razorbacks were involved.
Wallace is survived by his wife; Jean Cowne Hunton, who is a native of Greenwood. She provided the home base in many various assignments with Reynolds. The family includes a son and daughter-in-law, Drs. David and Teresa Hewett Hunton of Fort Smith; granddaughter Sarah Victoria Hunton of Little Rock, and grandson John Hewett Hunton of Fort Smith; another son and daughter-in-law, Tom Hunton and his wife Raynelle of The Woodlands, Texas; Tom's oldest son Stephen and wife Kristine, along with three great-grandchildren, Adler, Beckett and Ison, of Dallas, Texas; and Tom's younger son, Patrick Hunton and wife Bridgette of The Woodlands, Texas.
Viewing will be Tuesday, June 10 from 1-8 p.m. at McConnell Funeral Home in Greenwood, where the family will visit with friends from 5-7 p.m. Graveside service and interment will be Wednesday, June 11 at 10 a.m. at Hartford Memorial Park. A memorial service to honor his life will follow at 1 p.m. at Goddard United Methodist Church in Fort Smith, Arkansas.
Pallbearers will be Stephen, Patrick and John Hunton, Dr. Michael Wolfe, Randy Cash, and Wes Young. Honorary Pallbearers will be Dr. Cole Goodman and Dr. Mark Bailey. In lieu of flowers, memorials may be sent to Goddard United Methodist Church, The Hartford Alumni Scholarship Fund or Boy Scouts of America Westark Area Council. To sign an online guest book, please visit www.mcconnellfh.com.
Published June 10, 2014
OBITUARY SUBMITTED BY:
McConnell Funeral Home
137 North Main Street, P.O. Box 593, Greenwood, AR
Phone: 479-996-2131
http://www.mcconnellfh.com