David L. Hines
Hot Springs, AR, 1945 - 2014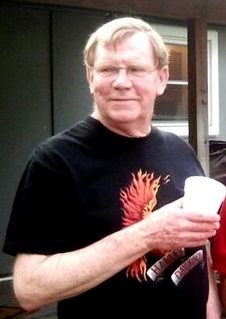 David L. Hines, a native of Hot Springs was 68 when he passed on June 6, 2014. He was born June 14, 1945 to Ed and Opal Hines. He graduated from Lakeside High School in 1963; he always cherished his football and track memories, team mates, classmates and friends throughout his life.
He worked at Safeway after high school, where he met and married the beloved light of his life Karyn. They celebrated their 45th anniversary last November. He was in the Arkansas Army National Guard, 212th Signal Battalion, which he retired from in 2005. During the year of 1968, he began working for Union Carbide (Evraz) and retired in 2007.
He valued and enjoyed all he knew from beginning to departure. He loved family togetherness, friends, fishing, boating, all his cars, trucks, motorcycles including a recently purchased Honda Scooter. He especially enjoyed the companionship from his beloved dog Duncan.
Loving survivors are his wife, Karyn, daughter Deni Golden (Kevin) of Maumelle, son, Jeff Hines (Lacey) of Little Rock, grandsons, Sgt. Jovi Golden (Michelle) of San Diego, Saxon Golden of Maumelle, Ashton and Hayden Hines of Little Rock, brother, Sonny Hines (Ann), sister, Erma Steelsmith (Ray) of Hot Springs and many treasured nieces, nephews, cousins, great-nieces, great-nephews and another beloved dog Sweety Pie.
The family would like to extend their deepest gratitude to neighbors Tony (Mary) Woodall for giving helpful support to Karyn while waiting for the ambulance. A special thank you to the ambulance staff, the staff of National Park Medical Center ER and ICU, surgeons and other doctors giving to David the last five years of his medical care.
Pallbearers will be his grandsons, son-in-law, cousin Larry Counts, nephew Michael Hines, and good friend Mark Easley. Honorary Pallbearers are Tommy James, Brad Breland, Bill Allen, Jim Horton, and all those who David worked and served with.
Visitation will be 6-8 p.m. Friday, June 13, 2014 and the service will be 10:00 a.m. on Saturday June 14, 2014 at Gross Funeral Home. Service will be officiated by Pastor George Vincent, with sentiments from Katherine Counts and Sgt. Jovi Golden. Burial will be at Memorial Gardens with Honor Guard presiding. Family request casual attire and memorials be made to Animal Humane Society and VFW. Guest register at www.grossfuneralhome.com.
Published June 10, 2014
OBITUARY SUBMITTED BY:
Gross Funeral Home
120 Wrights St, Hot Springs, AR
Phone: 501-624-1244