James Lee Branch
Lakeland, FL, 1923 - 2014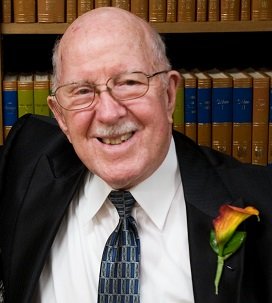 James Lee Branch of Lakeland and a longtime former resident of Fort Myers, Fla. passed away suddenly on Thursday, June 12, 2014 with his loving wife by his side. He was 90 years old.
James was born on Aug. 28, 1923 in Little Rock, Ark., the proud son of mother Earle (Carroll) and father George F. Branch. He was a veteran of the United States Army Air Corps who enlisted prior to hostilities and subsequently was engaged during combat operations in World War II. James earned the Purple Heart for injuries sustained during battle and was awarded the Distinguished Flying Cross with three clusters for his gallant and heroic actions during combat. During one mission over enemy territory he was shot down and became a prisoner-of-war.
After surviving the ordeal of war and being discharged, he returned home and started a career at the United States Postal Service beginning as a clerk and rising through the ranks to become a branch superintendent. He married his sweetheart, Lois Evelyn Rogers and together they raised a wonderful daughter, Susan. Sadly, James was predeceased by his wife, Lois in 1981.
Due to his military experiences, James always kept God and the needs of veterans close to his heart. He was an active member of the Disabled American Veterans and the Veterans of Foreign Wars. After relocating to Fort Myers with his second wife, Rose, they became active members of McGregor Baptist Church.
He leaves to cherish his loving memory his wife, Rose (Reid) of Lakeland; his daughter, Susan and son-in-law, Charles of Fort Smith, Ark.; grandson, Justin Besancon (Michelle) of Wauconda, Ill.; granddaughter, Meredith Haynes (Michael) of Lewisville, Texas; and five great-grandchildren, Evan Besancon, Braden Besancon, Adelyn Besancon, Jude Haynes and Sloane Haynes. He also leaves behind a number of extended family and many people who were proud to call him a friend. James was predeceased by his parents; brother, George F. Branch Jr.; and sisters, Anita Cooper and Marjorie Graves.
A Memorial Service will be celebrated at 11 a.m. on Monday, June 16, 2014 in the Chapel at Fort Myers Memorial Gardens Funeral Home, 1589 Colonial Boulevard, Fort Myers, Fla. 33907, (239) 936-0555. Immediately following the service, family and friends will dismiss to the adjacent cemetery for military honors conducted by Veterans of Foreign Wars Post 4174. Following the conclusion of that ceremony, he will be laid to rest at Memorial Gardens Cemetery. There will be a Memorial Gathering for his friends and neighbors in Lakeland on the following day, Tuesday, June 17, 2014 at 11 a.m., at Arbor Oaks Assisted Living, 4141 Lakeland Heights Boulevard, Lakeland, Fla. 33805, (863) 774-3187.
Those who wish to offer condolences to the family at this difficult time are urged to visit Mr. Branch's memorial webpage at www.fortmyersmemorial.com and sign the guestbook.
Published June 15, 2014