Aaron "Happy" Westbrook
Benton, AR, 1926 - 2014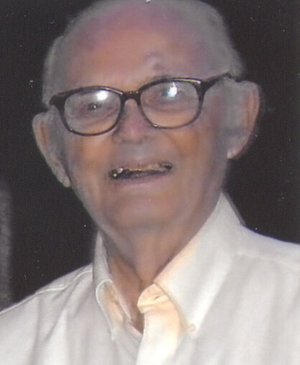 Aaron Calvin "Happy" Westbrook Jr., age 88, of Benton, passed away peacefully on Father's Day, Sunday June 15, 2014 at Heartland Rehab in Benton. Born Aaron Calvin Westbrook Jr. on April 6, 1926, the second son and third child of A.C. "Happy" Westbrook Sr. and Esta Martin Westbrook in Benton, Arkansas.
He was preceded in death by his parents; a sister, Adeline Church of Pine Bluff and a brother, Wayne Westbrook of Dallas, Texas. He is survived by his wife of 63 years, Joy Townsend Westbrook; two sons, Jeff Westbrook (Karen) of Tull and Curtis Westbrook of Brentwood, Tennessee; three grandchildren, Major Lance Westbrook (Tyler) of Lorton, Virginia, Cameron Westbrook and April Westbrook of Nashville, Tennessee; three nephews and three nieces.
Happy graduated from Benton High School in 1944 where he earned three letters in football and played in the high school band. He enlisted in the Army Air Force in the spring of 1944 and left for training a few days before his high school graduation. Happy initially trained as an aerial gunner on a B-24 aircraft, but soon after was retrained as a control gunner on a B-29 bomber. In 1945 after the Island of Okinawa was liberated, he was stationed at Kadena Airfield on Okinawa with the 22nd Bomb Group. After his discharge from service in January 1947, he returned to Benton. In the fall of 1947, he attended Henderson State Teachers College in Arkadelphia for one year. He then worked various jobs until 1950 when he started his employment at the new Aluminum Company of America Plant in Bauxite where he remained until retirement in 1983 as a supervisor in the chemical department.
Happy met, courted, and then married the love of his life, Joy Lee Townsend, at the Bauxite Methodist Church on June 22, 1951. They then made their home in Benton and never left.
He belonged to the American Legion, Benton Jaycees and Benton Lions Club at various times and at different lengths of years. Happy also was in the Central Arkansas Concert Band playing baritone and performing at several concerts during his tenure there. He was a member of the ALCOA 25 year club. Happy and Joy participated in a local bridge club with very dear friends for many years. He worked with the Cub Scouts and Boy Scouts when his sons were active in those organizations. Happy helped coach youth baseball and worked with the Junior Golf Program at Longhills. Fishing was also a pastime that he did with Joy, his sons and friends. Happy served on the Board of the Benton Athletic Memorial Museum for a number of years which allowed him to work with friends, especially his good friend, Thomas Hardin. Most of all, Happy liked golf. He was a charter member of the Benton/Bauxite Golf Association at Longhills Golf Course. Happy played regularly for more than 40 years until health issues would not permit him to do so.
Happy and Joy joined and have remained members of the First United Methodist Church in Benton for 63 years. He was a very active member, serving in various positions in the church.
The family extends their sincere and utmost gratitude to the entire staff at Heartland Rehab and Saline Memorial Hospice for their care and love throughout Happy's lengthy stay. We would also like to thank the friends that Happy and Joy have held close during their journey through their life together.
Memorial services will be 2 p.m. Thursday, June 19 at Ashby Funeral Home in Benton. Visitation will follow after the service. Memorials may be made to the First United Methodist Church in Benton or the Benton Athletic Memorial Museum (BAMM). On-line guest book at www.ashbyfuneralhome.com.
Published June 17, 2014
OBITUARY SUBMITTED BY:
Ashby Funeral Home
108 West Narroway, Benton, AR
Phone: 501-778-2544