Thomas Franklin Kenneth Harrison Sr.
Greers Ferry, AR, 1938 - 2014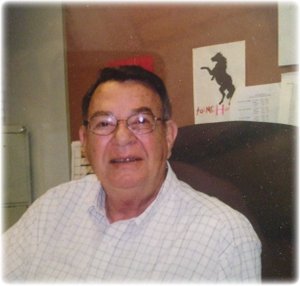 Thomas Franklin Kenneth Harrison Sr. of Greers Ferry, Arkansas went into the arms of his Heavenly Father on Father's Day, Sunday, June 15, 2014. He was born October 18, 1938 in Barney, Arkansas the youngest of five children to Jessie T. and Elsie Webb Harrison. A move to Stuttgart, Arkansas proved to be a blessing for Ken as this is where he met and fell in love with his future wife, Dixie Carroll Hillman Harrison. The two married and he achieved a BSE degree with a major in Math and a minor in General Science at Arkansas State Teachers College in Conway, Arkansas. He also received MAT degree in Mathematics at Tulane University in New Orleans, La. Ken was a licensed Investment Banker, a Principle in Investment Banking, and had several other educational achievements in Math and Business. Ken worked as a sales representative for Wyeth Laboratories in Miami, Florida and then as an educator throughout the 60's. In 1969, Ken became the Director of the Classroom Teachers Association and Director of Research for the Arkansas Education Association and served until 1977. During the 1980's, Ken went to work for Swink and Company in Little Rock. He began in sales but quickly progressed to Senior Vice President. He was awarded numerous sales awards and was presented an AMAE award for Salesman of the Year by Bill Clinton in 1986. In the 1990's, Ken went back to his roots and began teaching again. He taught Math at J.A. Fair High School and Hall High School in Little Rock, Ark. and was also an adjunct teacher of Math at University of Arkansas Little Rock/Pulaski Technical College. During this time, he also served as a consultant for Blackwood Financial Group.
After his retirement to Greers Ferry, Ken put his talents to good use in support of his son's business, Cornerstone Pharmacy of Greers Ferry. He helped around the pharmacy and brought a family presence to the employees and customers. Ken was a member of Holiday Hills United Methodist church in Greers Ferry and he and Dixie have enjoyed serving together with this body of believers. Ken's favorite times were spent with his family and friends playing cards and games, boating, or being an avid numismatist.
Ken is survived by his wife Dixie Carroll Hillman, son, T.F. Kenneth (Kenny) Harrison Jr., daughter-in-law, Tracee, and two grandchildren, Lindsy Noelle Harrison and Braden Thomas Harrison, son, Benjamin Charles Hillman Harrison and daughter-in-law, Jennifer.
A memorial service will be held Wednesday, June 18, 2014, at 11 a.m. at Holiday Hills United Methodist Church in Greers Ferry, Arkansas, under the direction of Roller-McNutt Funeral Home, Conway (501) 327-7727. Visitation will begin at 10 a.m. In lieu of flowers, the family requests that donations be considered to one of Ken's favorite charities, Holiday Hills UMC Feed the Hungry program. You may send to Holiday Hills UMC, 8824 Edgemont Road, Greers Ferry, Ark. 72067 or donate online at holidayhillsumc@att.net.
Honorary Pallbearers are Dr. Nick Cavaneau, Thomas Harold Hillman, Jr., Richard Edward Hillman, Robert C. Watkins, William Mark Parker, Charles Larry Edwards, Christopher Allen Rhoades, Terry Lynn Rhoades, and Joshua Eric Dean Harrison. Online guest book: www.rollerfuneralhomes.com.
Published June 17, 2014
OBITUARY SUBMITTED BY:
Roller-McNutt / Conway
8th and Vine, P.O. Box 249, Conway, AR
Phone: 501-374-2731