Eugene Henry (Gene) Wirges
of North Little Rock, AR, 1927 - 2014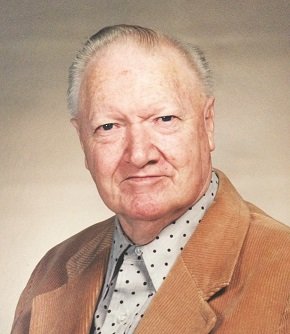 EUGENE HENRY (GENE) WIRGES, 86, of North Little Rock, passed away June 19, 2014, surrounded by family. He was born Dec. 5, 1927 in Little Rock to Joseph B. and Elizabeth Wollhower Wirges and was a lifelong Arkansan.
Renowned as a crusading newspaperman, Gene received the prestigious Elijah Parish Lovejoy Award for Courage in Journalism in 1962 and an award from Texas Southern University for exposing corruption in the face of great personal danger.
Between 1943 and 1957, Gene was a reporter/photographer for the Arkansas Gazette, sports editor for the Jonesboro Evening Sun, and news editor for the Paragould Daily Press. In 1947, he married Betty Carter of Little Rock and in 1957 they purchased the Morrilton Democrat, later gaining notoriety for their exposure of political corruption in Conway County. Their campaign for better government and honest elections made national headlines and has had a lasting impact on the state of Arkansas.
In the late '70s, Gene pioneered one of the first computerized abstract and title companies. And in the early '80s, he ventured into the field of aerial photography. His company developed a remote camera system utilizing blimps and was used by National Geographic, Golf Magazine, and others.
After retiring in 1988, he authored the book "Conflict of Interests – The Gene Wirges Story", and was a frequent guest on political radio talk shows across the country.
His favorite pastimes in later years included handicapping the horses and sharing detailed stories about his life and all the people he'd encountered.
Gene was preceded in death by his parents; wife, Betty; son, Ron Wirges; and brothers, Charles Wirges and Joe B. Wirges Jr. He is survived by four children, Vicki Wirges-Stanton (Jim), Greg Wirges, Shelly Culbertson (Daniel), George Wirges (Jody); brother, Robert E. "Buddy" Wirges (Betsy); 13 grandchildren; 12 great-grandchildren; and a host of relatives and friends.
Although the loss of our courageous, determined and brilliant patriarch leaves a huge void in our lives, his legacy lives on.
The family would especially like to thank his caregivers for their tireless efforts and compassionate support. As an expression of sympathy, memorial contributions may be made to Arkansas Hospice.
Visitation will be held Monday, June 23 beginning at 6 p.m., followed by the Rosary at 7 p.m. at Little Rock Funeral Home, 8801 Knoedl Ct. (NW corner I-630 and Barrow Rd.). The Funeral Mass will be held at the Cathedral of St. Andrew on Tuesday, June 24 at 10 a.m. with Father Warren Harvey officiating.
Arrangements by Little Rock Funeral Home (501) 224-2200. Mr. Wirges' online guestbook may be signed at www.littlerockfuneralhome.com.
Published June 22, 2014
OBITUARY SUBMITTED BY:
Little Rock Funeral Home
8801 Knoedl Ct., Little Rock, AR
Phone: 501-224-2200