John E. Tull Jr.
Lonoke, AR, 1925 - 2014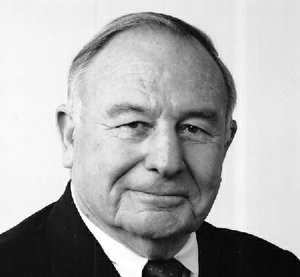 Retired farmer, John E. Tull Jr. 89, of Lonoke, Ark. passed away on Friday, June 20, 2014. Mr. Tull was born in 1925 in Little Rock, Ark. to J.E. Tull and Nettie Frolich Tull. He received his Bachelor of Science degree from the University of North Carolina, Chapel Hill and served in the United States Navy during World War II and the Korean conflict.
Like many of his generation, Tull forewent his senior year of high school to join the war effort. After joining the Navy, he attended midshipman schools across the country, playing football at the University of Arkansas, Tulane University, and the University of North Carolina. His naval career included being chosen as a member of the Navy Scouts & Raiders; an amphibious reconnaissance unit that was a precursor to today's Navy SEALs, and later served as a Lieutenant JG aboard the U.S.S. Magoffin. Following his naval career, Mr. Tull worked with Dan River Mills as an efficiency expert until his father, J. E. Tull, offered him the opportunity to farm in Lonoke County.
He met his future wife, Mary Elizabeth Ybarrondo, in San Diego, Calif., and they were married Sept. 7, 1952. They settled in Lonoke, where Tull owned and operated a diversified farming operation, which produced rice, soybeans, corn, wheat and cattle. Through the years, Mr. Tull has served in many capacities on the Arkansas and National Rice Councils, and most notably served as president of both organizations.
Mr. Tull was nominated to be a commissioner of the Commodity Futures Trading Commission by President William J. Clinton on Nov. 5, 1993. Following confirmation of the United States Senate, he was sworn in on Nov. 24, 1993, for a term expiring April 15, 1998.
In addition to farming, Mr. Tull has served as chairman of the Arkansas State Plant Board, secretary-treasurer of the Arkansas Seed Growers Association, president of the Arkansas Cattlemen's Association, vice president of the Arkansas Soybean Association, and chairman of the Governor's Rail Safety Committee.
Additionally, Mr. Tull traded rice contracts as a licensed floor broker on the New Orleans Commodity Exchange and Mid-America Commodity Exchange; he was later a member of the Chicago Board of Trade's Rice Working Group. In 1994, Tull was inducted into the Arkansas Agriculture Hall of Fame.
He was a devoted member of Trinity Episcopal Church in Little Rock, and a lifelong Razorback fan. Saturdays, you would find him attending Razorback home games and on Sunday mornings in his pew at Trinity Episcopal.
Mr. Tull is preceded in death by his parents; his sister, Regina Tull McCollum; grandson, John E. (Jake) Tull IV; great-granddaughter, Lucy Grace Landers; and niece, Kay McCollum Switzer. Tull is survived by his wife, Mary Elizabeth; his three children, Betsy and husband, Ben G. Landers Sr. of Germantown, Tenn., Mary Elaine and husband Johnnie W. Baker of Raymond, Miss., and John E. Tull III and wife, Martha of Little Rock, Ark.; and his nieces, Rosalind (Shorty) Brown and Diane Powell; grandchildren, William Conner Eldridge (Mary Elizabeth) of Fayetteville, Ark., Benton G. Landers Jr. (Courtney) of Austin, Texas, Catherine Eldridge Curley (Mike) of Greenwich, Conn., Nicholas Tull Landers of Memphis, Tenn., Mary Frances Landers of Germantown, Tenn., Preston Tull Eldridge (Lauren) of Little Rock, Ark., Kathryn Wynn Tull of Little Rock, Ark., and Elizabeth Laine (Ella) Tull of Little Rock, Ark.; and five great-grandsons, William Conner Eldridge Jr, Henry Ross Eldridge and Andrews Tull Eldridge of Fayetteville, Ark., and John Eldridge Curley and Christopher Strong Curley of Greenwich, Conn.
The family wishes to extend its sincere appreciation to the doctors and nurses of the Arkansas Heart Hospital and Arkansas Hospice, and to our extended family, JoAnn Harris, Jennifer Sharpe, Chasity Dedmon and Johnetta Thomas for their loving care of our parents. The family also wishes to express their deep appreciation to Dr. Ben Johnson for his many years of care and friendship.
A memorial service will be held Monday, June 23 at 1 p.m. at Trinity Episcopal Church in Little Rock. The Reverend Dr. Christoph Keller III and Reverend Canon Paul McLain will officiate. A reception for family and friends will follow the service.
In lieu of flowers, memorials may be made to the Jake Tull Memorial Endowed Scholarship, University of the Ozarks, 415 N. College Avenue, Clarksville, Ark. 72830.
Arrangements are by Boyd Funeral Home, Lonoke. Online guest book, www.boydfuneralhome.net.
Published June 22, 2014
OBITUARY SUBMITTED BY:
Boyd Funeral Home
207 E. Second St., Lonoke, AR
Phone: 501-676-2375