Larry James DuBose
of North Little Rock, AR, 1945 - 2014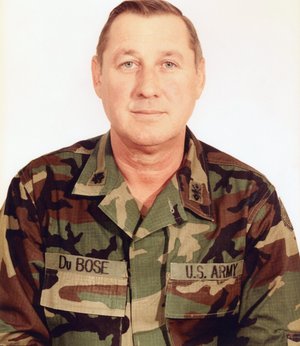 RET. LT. COL. LARRY JAMES DUBOSE, 68, of North Little Rock passed away June 12, 2014 at St. Vincent's Arkansas Hospice Care. He's never been one to back down from a fight and this was no different. He put up a courageous battle against cancer to extend his life to see his grandchildren grow. The Lord blessed us with some time to say how much we loved each other to the very end.
He was born Dec. 4, 1945 in Garner, Ark. He was a retired Lt. Col. from the Arkansas National Guard, a North Little Rock Policeman, and Pulaski County Sheriff. He had a number of accolades and accomplishments, but he was most proud of his family.
He was preceded in death by his wife, Carolyn Loree Gregory DuBose; his parents, Joel G. and Eularuel DuBose; a sister, Erica DuBose; and father-in-law, Bill Gregory.
He is survived by his wife, Madge Swayze DuBose; son, Bubba McVay and his wife Tiffany of Springdale; daughters, DeLinda Pack and her husband, Eric, and Debbie Tissue and her husband, Craig of North Little Rock; grandchildren, Caraline, Courtney, Carson, Cruz, Cameron, and Casey; brothers, Joel DuBose and his wife Frances, Tracy DuBose, and Archie Bernard; sister, Connie Hensley; mother-in-law, Bonnie Gregory; and many nieces; nephews; and great friends.
Memorial contributions may be made to Kellogg Valley Baptist Church, 9516 Bamboo Lane, North Little Rock, Ark. 72120.
Sign online guestbook at www.mooresjacksonvillefuneralhome.com.
Published June 22, 2014
OBITUARY SUBMITTED BY:
Moore's Jacksonville Funeral Home
1504 Loop Road, Jacksonville, AR
Phone: 501-982-2136
http://www.mooresjacksonvillefuneralhome.com