Robert L. Covington
of North Little Rock, AR, 1922 - 2014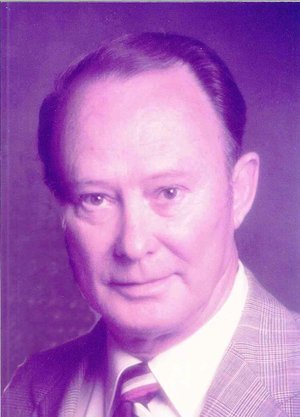 ROBERT L. COVINGTON, age 91 of North Little Rock, Ark. passed away June 20, 2014. He was born 9/12/1922 in Rowell, Ark. to the late W.H. and Lottie Thornton Covington. He was preceded in death by his two brothers, Alva Covington and Carroll Covington who he was really close to; and a sister, Ara Covington who passed away during his and her early childhood. He was also preceded in death by his favorite brother-in-law, Herchel Archer. He is survived by his wife of 60 years, Mary Alverson Covington; one son, Randy Covington (Carla); granddaughter, Kendal Covington; step-grandson, Alex Duffel; and great-grandson, Korbin Caipen. He is also survived by his baby sister, Betty Archer of England, Ark.; and a large group of very, very sharp nieces and nephews and cousins.
Mr. Covington grew up in the Clear Lake community near England, Ark. where he graduated from England High School. He then attended Modern Business College in Pine Bluff AR which was interrupted by being called to serve his country during World War ll. He served 30 months with the 456th Bomb Squadron, 9th U.S. Air Force, where he received the Silver and Bronze Service Stars along with the bomb group Presidential Citation. After the war he was employed by the VA Hospital in North Little Rock as a Registrar Assistant for 20 years before transferring to the VA Regional office in Little Rock. He was Assistant Director of the Veterans Services upon his retirement March 1983. He was a long time member of Trinity Assembly of God Church in Little Rock, Ark.
He was a loyal and faithful husband, and a super father, grandfather and great grandfather. He liked all sports especially the Razorbacks and St. Louis Cardinal's. He had especially fond memories of all the many fine young men he coached, as well as other coaches he became associated with in Little League, Pony League and Legion baseball, many of whom excelled in life and always ask about him. He also enjoyed flying small planes with his brother-in-law, Herchel Archer, R.V. Stewart, other friends and scaring his son when they flew together. He also was an avid cross word puzzle fan.
Visitation will be held from 10 a.m. to 11 a.m. Monday June 23, 2014 at Griffin Leggett Rest Hills funeral home, 7724 Landers Rd. in North Little Rock, Ark. with funeral services to immediately follow at 11 a.m. Entombment will be in Rest Hills Mausoleum also located at 7724 Landers Rd. in North Little Rock, Ark. Memorials may be made in lieu of flowers to Trinity Assembly of God Church 11120 Cantrell Rd. Little Rock AR 72212.
www.griffinleggettresthills.com.
Published June 22, 2014
OBITUARY SUBMITTED BY:
Griffin Leggett — Rest Hills
7724 Landers Road, North Little Rock, AR
Phone: 501-835-3515
http://www.griffinleggettresthills.com/