Ralph Coppess Jr.
of Little Rock, AR, 1926 - 2014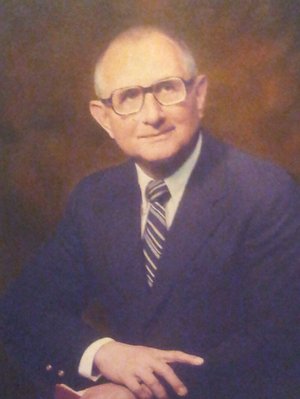 RALPH COPPESS JR. of Little Rock, a car salesman for more than 30 years who brought the Volkswagen to Arkansas in the 1950s, died Monday, June 23. He was 88.
A native of Iowa who served in the U. S. Navy during World War II, Coppess and his partner, Jim Tait, bought a franchise in 1955 to sell Volkswagens and, later, Mazdas, their business first at 5th and Scott St. and later at 10th and Broadway Ave.
He was preceded in death by his wife, Margaret Jane (Peg) Fehleisen Coppess; and a sister, Dorothy Wageman of Cedar Rapids, Iowa.
"Daddy was kind, caring, and generous, and was liked and respected by everyone who knew him," his daughter, Candy Coppess Roman, said. "He was a good person to work for because he treated all employees well."
Coppess, a quiet, mild-mannered man who had a wry sense of humor, liked people and believed in their goodness, was born April 29, 1926 in Olin, Iowa, one of three children of Ralph and Tillie Zaruba Coppess. His father was a farmer.
He graduated from high school in Olin and, after the war, State University of Iowa in Iowa City, earning a bachelor's degree in journalism. He served in the Navy as an electrician's mate third class on the USS Hamlin, a primary seaplane tender that operated throughout the Pacific, including at Saipan, Iwo Jima, and Okinawa. He also was a projectionist who showed movies to shipmates and said musicals were the most popular. He and other Arkansas veterans were honored when they were flown to Washington, D.C. May 3 to visit the World War II Memorial and formally thanked for their service and sacrifice.
He earlier worked for Collins Radio Company in Cedar Rapids, which made radio receivers and other electronic equipment, and where he met Tait, who shared his love of smaller cars. Volkswagen United States gave him a plaque in 1986 "in grateful recognition of 30 years of association." He later was often approached by those who told him they'd bought a car from him years before and had been happy with the experience and the car, his daughter said.
He was a member of St. Mark's Episcopal Church, where he later attended Sunday evening services as long as he was able. He was a longtime member of the Little Rock Country Club, where he especially enjoyed playing tennis with his Sunday group.
Other survivors include a sister, Clarice Hinds of Marion, Iowa; a nephew; and two nieces; and a son-in-law, Michael Roman of Little Rock.
There will be a memorial service 3 p.m. Tuesday at St. Mark's at 1000 North Mississippi Ave. conducted by Rev. Danny Schieffer and Rev. Lisa Fry.
Please share your memories and condolences with the family at www.griffinleggetthealeyroth.com.
Published June 29, 2014
OBITUARY SUBMITTED BY:
Griffin Leggett Healey & Roth
5800 West 12th Street, Little Rock, AR
Phone: 501-661-9111