James W. Goodwin
Conway, AR, 1922 - 2014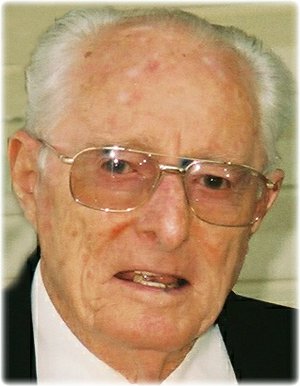 James W. Goodwin, 92, of Conway, died on Tuesday, March 4, 2014 at his home. He was born on Wednesday, February 1, 1922 in Greenbrier, to the late W.H. "Bud" and Arbell (Risner) Goodwin. He is a retired Baptist Minister of 56 years and a thirty year U.S. Army Veteran. He served in WWII and Korea. He received three battle stars; one each for the Battle of France, the Battle of Rhineland and the Battle of the Bulge. He received one U.S. Presidential Unit Citation and one Korean Presidential Citation. He pastored churches in Arkansas, Indiana, Missouri and California.
James is survived by his wife of 70 years, Clestine (Herring) Goodwin of Conway; his children, Jim Goodwin (Iva) of Fresno, Calif., Carolyn Chapman (Harold) of Loomis, Calif., Helen Trublood of North Little Rock, Ark., Bill Goodwin (Debbie) of Batesville, Ark., Jerry Goodwin (Bonnie) of Bald Knob, Ark., Mary Bonner (John) of Easton, Pa., and Sherri Duarte (Mike) of Morgan Hill, Calif.; 15 grandchildren and 27 great-grandchildren. He is preceded in death by his parents, two brothers, a sister, one son-in-law, Bill Trublood, three grandchildren and two great-grandchildren.
Funeral Services will be at 10 a.m., Monday, March 10, 2014 at Springhill Baptist Church in Greenbrier. Burial will follow in McNew Cemetery. Visitation will be from 5 to 8 p.m., Saturday, March 10, 2014, at the church.
In lieu of flowers memorials may be made to Lifeword Ministries, P.O. Box 6, Conway, Ark. 72033. Online guestbook:www.rollerfuneralhomes.com.
Published March 7, 2014
OBITUARY SUBMITTED BY:
Roller-McNutt / Conway
8th and Vine, P.O. Box 249, Conway, AR
Phone: 501-374-2731