Walter B. Clancy
of Little Rock, AR, 1926 - 2014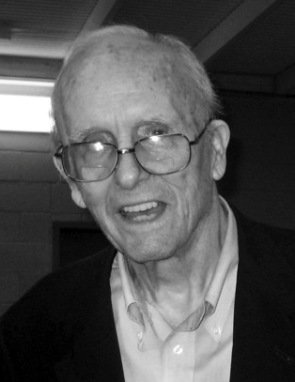 Walter B. Clancy, 88, of Little Rock, died March 4 2014 at the VA hospital in Little Rock. Walter and his twin brother, Frank, were born to Thomas and Ruth Clancy in Helena, Arkansas, on January 4, 1926. He had an older brother, Tom, and the three boys attended Sacred Heart Academy and delivered milk for the family's dairy farm in the afternoons. Upon graduation, Walter joined the Army and was sent overseas to Germany, where he was injured by a piece of shrapnel and sent to a Paris hospital. There he celebrated with the Parisians the end of World War II.
In Little Rock, he enrolled in St. John's Seminary and became a priest. He later received a Master's Degree from St. Louis University, a Canon Law degree from Catholic University in Washington D.C., and a PhD in Public Health from The Heller School at Brandeis University.
Walter and several other young priests were actively involved in the desegregation of Little Rock Central High School and the civil rights movement. He escorted a busload of teens to Washington D.C. to hear Dr. Martin Luther King's "I Have a Dream" speech.
After 12 years as a priest, he left the priesthood for a multi-faceted career as a teacher at the graduate School of Social Work, Little Rock University; the head of the Cancer Center at St. Vincent's Hospital; a grant writer for UAMS: and a counselor of veterans with addiction problems at the V.A. Hospital.
Walter married Jon Jett, who had four children, he often said, he was privileged to help raise. After their divorce, he married Jean Gordon in 1989, a longtime friend who had also been involved in the civil rights movement. Together they worked in the peace movement through WAND (Women's Action for New Directions), traveled with friends and enjoyed 25 years of marriage.
Above all he was truly kind, gentle and generous, reaching out to those less fortunate, doing his best to make the world a better place and asking for nothing in return.
His parents and two brothers preceded him in death. Tom Clancy served as a Catholic priest in New Orleans, where he headed Loyola's radio station. His twin, Frank, was struck by lightning and killed on Greers Ferry Lake. Walter is survived by his wife, Jean Gordon; six step-children, Anne Gordon Perry, Tom Gordon, Clair Ramsay, Jett Sheehey, Todd Barnett and Jon Barnet, his nephews Walter Clancy, Frank Clancy Jr., Edwin Clancy and Sean Clancy; his nieces, Amy Clancy and Susan Heidelberger, and his beloved Jack Russell Terrier, Winslow.
A visitation will be held on March 7, 5 to 7 p.m. at Ruebel Funeral Home, 6313 W. Markham. The funeral service will be held on March 8, 11 a.m. in the chapel at Morris Hall, St. John's Center, 2500 N. Tyler. Donations in his honor may be given to The One, 8016 Faulkner Lake Road, North Little Rock, Ark. 72117. (See www.theoneinc.org) or any charity of your choice. Arrangements by Ruebel Funeral Home, www.ruebelfuneralhome.com.
Published March 7, 2014
OBITUARY SUBMITTED BY:
Ruebel Funeral Home
6313 West Markham Street, Little Rock, AR
Phone: 501-666-0123
http://www.ruebelfuneralhome.com