Charles M. Kester
Fayetteville, AR, 1968 - 2014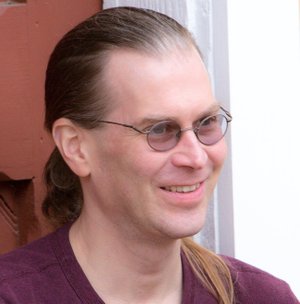 Fayetteville attorney Charles M. Kester left many people who loved and respected him when he died unexpectedly from a pulmonary embolism, Monday, March 3, 2014. Charles was born January 19, 1968 in Batesville, Arkansas to Dr. Monty and Phyllis Kester of Lynchburg, Virginia. He married Cheryl Goodwin on June 1, 1991. He was an active member of Grace Episcopal Church of Siloam Springs where he took on many ministry and leadership roles.
In addition to his beloved wife Cheryl and his parents, Charles is survived by his brother David and wife Janet, one niece, six nephews and a godson, as well as other extended family.
As an undergraduate, Charles attended John Brown University where he wrote the first constitution and by-laws for the JBU Honors Program. His professors immediately recognized him as a thinker--one of the brightest and best. He graduated from Liberty University in May 1991 with a degree in religion and philosophy. He received his juris doctorate from the Georgetown University Law Center where he was associate editor of the Georgetown Law Journal. He served as a law clerk to the Honorable Frank J. Magill of the U.S. Court of Appeals Eighth Circuit.
Charles was a member of Phi Sigma Tau, Phi Alpha Delta, and the Order of the Coif. He also belonged to the National Speleological Society and the Ozark Highlanders Pipe Band. He was a member of the American, Arkansas, Benton, and Washington County Bar Associations. He served as a member of the Arkansas Bar Association's Appellate Practice Committee and as Treasurer (2001-2002), Secretary (2002-2003), Chair-Elect (2003-2004), and Chair (2004-2005) of the Arkansas Bar Association Labor and Employment Law Section. He was a member of the American and Arkansas Trial Lawyers Association, where he served as a member of the Arkansas Trial Lawyers' Amicus Curiae Committee. He was also a member of the National Employment Lawyers Association, the National Association of Criminal Defense Lawyers, and the Arkansas Association of Criminal Defense Lawyers. He was the owner of the Kester Law Firm since 1996 and proprietor of St. Wulfstan's Books since 2004.
Those who knew Charles understood that he was especially drawn to the underdog, the disenfranchised, and some who many others thought indefensible. He was recognized by his peers as a rare combination of honesty and brilliance. He served on the board of directors of the Arkansas ACLU since 1999. He was an avid collector of antique Bibles and prayer books and a quiet, self-effacing benefactor of various scholarship programs. He was a great listener to the problems of the elderly, who often loved him like a son.
The burial office with Holy Eucharist will be held at St. Paul's Episcopal Church in Fayetteville, Arkansas, at 10 a.m. Saturday, March 8. Interment and prayers will follow at the Columbarium at Grace Episcopal Church in Siloam Springs at 12:30 p.m. A reception will follow at Grace Church. Services will be conducted by the Reverends Stan McKinnon, Scott Walters, and Chuck Walling.
In lieu of flowers, donations may be made to the Arkansas ACLU or Grace Episcopal Church of Siloam Springs.
Published March 8, 2014