Katie Mae Quattlebaum
Donaldson, AR, 1923 - 2014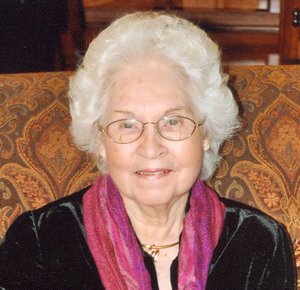 Katie Mae Catlett Quattlebaum, age 90, of Donaldson, Ark. died Thursday, March 6, 2014 at Baptist Health Medical Center-Hot Spring County in Malvern after a lengthy illness. She was born April 10, 1923 in Donaldson, Ark., the daughter of Walter "Mose" and Nettie Kight Catlett. She was a devoted wife, mother, grandmother and loved her family, church, and friends. She was a member of the D.A.V. Women's Auxiliary and the Sardis Primitive Baptist Church.She was preceded in death by her husband Eulas P. Quattlebaum Sr.; five sisters, Gertie Gill, Vinie Laster, Mamie Pearl O'Neill, Etha Mae Catlett, and Irene Doak; three brothers, Bob Catlett, J. D. Catlett, and Monroe Catlett; four step-brothers Walter, Clyde, Cecil, and James Murphy McDade. She married Eulas P Quattlebaum Sr. on May 9, 1941, the day after she graduated from Donaldson High School.
Survivors include one daughter, Barbara Whitehead of Donaldson, Ark.; one son, Paul Quattlebaum Jr. and his wife Linda of Arkadelphia; one brother, James Catlett of Lampasas, Texas; five grandchildren; Wendy (David) Gholson of Lampasas, Texas, David (Chasity) Whitehead of Killeen, Texas, Scott (Laurie) Whitehead of Malvern, Ark., Elizabeth (Ben) Rowe of Fayetteville, Ark., and Emily Rodgers of Santa Monica, California; 10 great-grandchildren; Hunter, Gauge, and Timber Gholson, Andrew and Katie Whitehead, Tate and Shelby Duddles, Anya and Alexia Whitehead, and William Rowe; several nieces and nephews, cousins, church family and a host of friends.
Funeral services will be 10:30 a.m. Monday, March 10th at Harmony Primitive Baptist Church in Donaldson, Ark. with Elder Jesse Stripland and Elder Neil Phelan Jr. officiating. Burial will be in the Ouachita Cemetery at Donaldson. Visitation will be 5-8 p.m. Sunday at Ruggles-Wilcox Funeral Home in Arkadelphia. She will lie in state at 9 a.m. Monday until service time at Harmony Primitive Baptist Church in Donaldson.
Memorials may be made to Sardis Primitive Baptist Church, 8587 Hwy. 222, Malvern, Ark. 72104. The family would like to thank Dr. Ray Bollen, his staff, and all of her nurses and caregivers throughout the years. The family will be at her home in Donaldson. Sign the online guest book at www.ruggleswilcox.com.
Published March 8, 2014
OBITUARY SUBMITTED BY:
Ruggles-Wilcox Funeral Home
517 Clay St., Arkadelphia, AR
Phone: 870-246-4551
http://www.ruggleswilcox.com