James H. Fribourgh
of Little Rock, AR, 1926 - 2014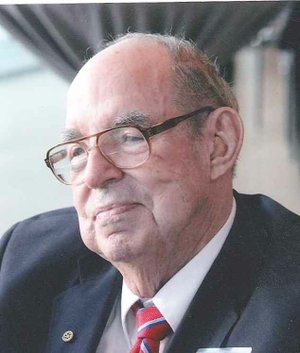 JAMES H. FRIBOURGH, 87, of Little Rock, Ark. died March 6, 2014. He was born June 10, 1926 in Sioux City, Iowa, son of Gunder and Edith Fribourgh.
Jim was preceded in death by his parents; his wife of 50 years, Cairdenia M. Fribourgh; his brother, Gunder Fribourgh of Des Moines, Iowa; and sister, Joan, and his brother-in-law, Judson Cole of Madison, S.D. He is survived by his daughters: Abbie and her husband John Palmer of Bryant, Ark., Becky and her husband Mike Casanova of Little Rock, Ark., Cindy and her husband Richard Schreiber, also of Little Rock; and grandchildren, Sarah Palmer, Christin Casanova, Matthew Casanova, J.J. Schreiber, and Ben Schreiber.
Jim graduated from East High School (Sioux City, Iowa) in 1944 and attended Morningside College (Sioux City, Iowa) from 1944 to 1947. In 1949, he received his B.A. and M.S. from the University of Iowa and his Ph.D. from the same institution in 1957. He was awarded an honorary doctorate, Doctor of Humane Letters, from Morningside College in 1989 for his contributions to higher education.
He began his teaching career at Little Rock Junior College in 1949, and remained with the school for 45 years through its transitions to Little Rock University and University of Arkansas at Little Rock. Positions he held were Instructor advancing to Professor of Biology (1949-1960); Chair, Division of Life Sciences (1960-1969); Provost and Executive Vice Chancellor for Academic Affairs (1969-1984); Interim Chancellor (1972-1973); Interim Chancellor (1982); and Distinguished Professor of Biology (1984-1994).
In 1992, Jim and his late wife, Cairdenia, instituted an endowed scholarship for non-traditional students at Morningside College, and in 1993, they founded a healthcare scholarship at St. Vincent Infirmary. In 2005, the College of Science and Mathematics established the James H. Fribourgh Endowed Biology Scholarship to commemorate his service to the College and the University.
Jim was a member of the Downtown Rotary Club of Little Rock (Paul Harris Fellow 1990). In 1995, the club named its annual UALR scholarship the James H. Fribourgh Rotary Club 99 Scholarship.
Funeral will be at 10 a.m. on Monday, March 10, 2014 at Trinity Episcopal Cathedral, 310 W. 17th Street in Little Rock. Burial will follow at Mount Holly Cemetery.
Visitation will be 2-4 p.m. Sunday, March 9 at Griffin Leggett Healey and Roth, 5800 W. 12th Street, Little Rock. (501) 661-9111.
Memorials may be made to The Fribourgh Scholarship, c/o UALR Office of Development, 2801 S. University, Little Rock, Ark. 72204 or to a favorite charity.
To sign Dr. Fribourgh's online guest book please visit www.griffinleggetthealeyroth.com.
Published March 9, 2014
OBITUARY SUBMITTED BY:
Griffin Leggett Healey & Roth
5800 West 12th Street, Little Rock, AR
Phone: 501-661-9111