Elizabeth Lucille Jordan Geren
Houston, TX, 1923 - 2014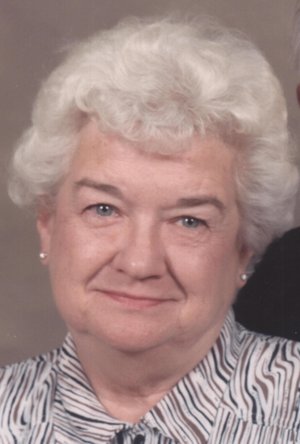 Elizabeth Lucille Jordan Geren, 90, passed away in Houston, Texas on March 9, 2014. She was born on Sept. 22, 1923, in Fort Smith, Ark.
Betty was preceded in death by her parents, Elton Jordan and Lucille Vogel Jordan; her husband of 61 years, Jerry L. Geren; and her sister, Mary Louise Schonaerts. She is survived by: her sister, Katherine Balser and her husband Richard of Magnolia, Miss.; three children: Lynn Geren, Ann Lohmann and husband Jon of Houston; Jerry L Geren Jr. and wife Lisa of Mahomet Ill.; six grandchildren, Jeffrey Baird and wife Tara, Mary Lohmann Cavanaugh and husband Mark, and Sarah Lohmann of Houston, Lauren Geren Trusler and husband David, and Jordan Geren of Mahomet, Ill. and MSgt. Richard Geren, USAF and wife Megan of Scottsdale, Ariz.; six great-grandchildren, Lily Geren, Raelin Baird, Grace Trusler, Jack Trusler, Beau Trusler and Ellie Geren.
Betty was a 1941 graduate of Saint Anne's Academy in Fort Smith, Ark. She worked at the Fort Smith Times Record prior to her marriage and was a volunteer in Catholic church groups and in the community throughout her life. She and Jerry enjoyed an activity-filled retirement for many years in Hot Springs Village before moving to Houston.
The Geren family wishes to thank the staff of Cameo Caregivers Westside; Jennifer and her Treemont nursing staff for their loving care; and The Houston Hospice, particularly Svanhaniel who guided and supported all through her last months.
In lieu of flowers, the family requests that friends honor Betty's memory with donations to Houston Hospice, National Military Family Association, American Nurses Association Foundation or Duchesne Academy of the Sacred Heart.
A family service will take place at Houston National Cemetery, 10410 Veterans Memorial Drive, on Friday, May 2, 2014.
Published March 16, 2014