Lois Ella Gill
of Little Rock, AR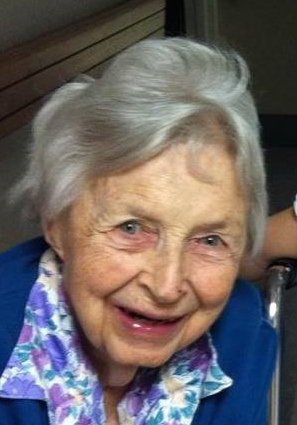 Lois Ella Gill transferred her church membership to the church triumphant on March 17, 2014 at the age of 96. She was the first of five girls born on the Elliott family farm in Rich Valley, Indiana and was the last surviving. She graduated from DePauw University where she said she majored in Home Economics and Husband Catching. She decided that while she might not get the best in her senior class, she could get the best in the freshman class, which she did in Charles William Gill. They enjoyed 60+ years of marriage before he passed in 2004. They married in 1942 during the war and their first child was walking before his dad came home from overseas. They lived most of their years in Cincinnati, and then became snowbirds in Naples, Florida, eventually retiring to Mason, Ohio. Lois came to Arkansas in 2005 to be near family and their reunions at Ferncliff Camp. She lived at Parkway Village then moved to Presbyterian Village when she needed more care.
She called her children the Fabulous Five: Charlie Gill (Conyers, Georgia), Karen Dahlman (Milwaukee, Wisconsin), David Gill (Little Rock), Tricia Gill (Stockton, California) and Barbara Gill (London, UK). She was much loved by her 14 grandchildren who spent many summers and vacations with her where she educated them about vegetables and values.
Occasionally she would declare an "Ice Cream Day" and they would eat ice cream all day. As they grew older she would mail them miniature zucchini muffins stuffed in the cardboard toilet paper tubes that she could not bear to throw away. Her recycling habits even included recycling ice cubes that had not completely melted. She reached out to many others, too - who needed a home, friendship, or even English lessons. Nuria and Bernal of Costa Rica became part of the extended family as well as Gerardo and Lilliana from Colombia in later years.
As well as five children, Lois Ella has 14 grandchildren, 22 great-grandchildren and 2 great-great- grandchildren. She will be missed by her family, but her faith was strong and she was ready to go.
We are sure that hugs and ice cream await her. Memorials may be made to Ferncliff Camp, 1720 Ferncliff Rd., Little Rock, Ark. 72223. Arrangements by Little Rock Funeral Home, 8801 Knoedl Ct., (501) 224-2200. Lois Ella's online guestbook may be signed at www.littlerockfuneralhome.com.
Published March 20, 2014
OBITUARY SUBMITTED BY:
Little Rock Funeral Home
8801 Knoedl Ct., Little Rock, AR
Phone: 501-224-2200