Albena "Beanie" Eden
of North Little Rock, AR, 1921 - 2014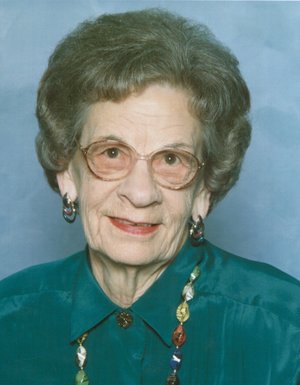 ALBENA "BEANIE" EDEN, 92, of North Little Rock, passed away March 28, 2014, at St. Vincent Hospital after a long battle with Alzheimer's. Known to all as Beanie, she was born Albena Serafina Pechoski on Oct. 4, 1921, in North Little Rock, Ark., one of five children. She was a homemaker and member of St. Anne's Catholic Church. She enjoyed sewing and loved polka dancing. For the past 4 and a half years, she has been a resident of Fox Ridge Assisted Living in NLR. In 1941, she married the love of her life, Percy "Joe" Eden and raised three sons. Beanie was predeceased by her parents, Valentine and Stella Gubanski Pechoski; her two brothers, Edward "Sonny" Pechoski in 1983 and Sylvester Pechoski in 1987; her husband, Joe Eden in 1994; and her great-grandson, Matthew Ryan Johnson in 1999.
She is survived by her three sons, Richard (Brenda) Eden and Michael (Lori) Eden of NLR, and John (Kelly) Eden of Arvada, Colo.; and her two sisters, Margaret Copeland and Angie Dollar of NLR. She also leaves seven grandchildren, Kim Eden of Sherwood; Chris and Steve Eden of NLR, Melissa Johnson of Aurora, Colo., Kryssy Kimminau of Castle Rock, Colo., and Nick and Zach Eden of Arvada, Colo.; and 11 great-grandchildren, Joey, Emily, Abby, and Jake Ellis of Sherwood, Derek, Olivia, and Caitlyn Johnson of Aurora, Colo., and Summer, Hope, Noah, and Lucy Kimminau of Castle Rock, Colo.; along with many nieces and nephews.
The family wishes to send a special thanks to the staff at Fox Ridge Assisted Living and Arkansas Hospice for the loving care and attention to our Mom. Also, a special thanks to Patricia McKinley & Joy Richardson for their spiritual care and companionship to our mother during her stay at Fox Ridge.
A visitation will be from 5-6 p.m., Sunday, March 30, followed by a rosary service at 6 p.m. at North Little Rock Funeral Home, 1921 Main St., in NLR and a Funeral Mass will be held on Monday, March 31 at 10 a.m. at St. Anne's Catholic Church, 6150 Camp Robinson Rd., in NLR. A private burial will take place at Little Rock National Cemetery, at a later date.
Memorials may be made to St. Anne's Catholic Church or Alzheimer's Arkansas, 201 Markham Center Dr., Little Rock, Ark., 72205 (www.alzark.org).
Online obituary at www.SmithFamilyCares.com.
Published March 30, 2014
OBITUARY SUBMITTED BY:
North Little Rock Funeral Home
1921 Main St, North Little Rock, AR
E-mail: mail@nlrfh.com
Phone: 501-758-1170