Betty Jo Hardin Pagan
of Little Rock, AR, 1922 - 2014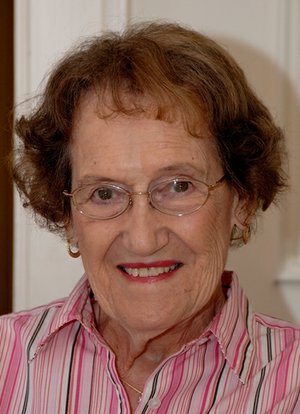 BETTY JO HARDIN PAGAN, 92, distinguished educator and children's advocate, died March 25, 2014, in Little Rock. A former president of the Southern Association on Children Under Six (SACUS) (now called the Southern Early Childhood Association), Mrs. Pagan played a leading role in the advancement of kindergartens and nursery schools in Arkansas and throughout the region.
Mrs. Pagan was born on May 31, 1921, in Faulkner County, Ark. She was the daughter of Marley Alfred Hardin, a farmer, and Susan Muriel Raney Hardin, a homemaker and former teacher. Mrs. Pagan graduated from Redfield High School in 1940 and enrolled at the University of Arkansas at Fayetteville. She left the University in 1942 to participate in the nation's war effort by working at the Pine Bluff Arsenal, where her unit won the Army-Navy "E" Award for Excellence in War Production.
In June 1943, she married John Frank Pagan of Strong, who was serving in the U.S. Army Air Force. When World War II ended, the Pagans returned to Arkansas and became teachers. Mrs. Pagan finished her Bachelor of Science in Home Economics degree at Fayetteville and later earned her Master of Science in Child Development and Family Relations, as well as her Advanced Study diploma, at the University.
Mrs. Pagan began her teaching career in Greene County in 1946. The following year, she and her husband moved to Little Rock. She taught at Joe T. Robinson Elementary School in 1947 and at Fuller High School from 1948 to 1951. During the 1950s, Mrs. Pagan balanced career and motherhood, teaching at Little Rock Central High, Pulaski Heights Junior High, and the Jeanne Anthony Academy, as well as giving birth to three sons.
In 1962, Mrs. Pagan originated Hall High School's innovative kindergarten laboratory program, which she directed until 1969. She taught child development courses at the State College of Arkansas (now UCA) from 1969 to 1971; supervised the Little Rock School District's home economics and kindergarten programs from 1972 to 1979; and served as the District's director of educational services from 1979 to 1983.
Mrs. Pagan published numerous articles, position papers, and curriculum guides, and she received extensive recognition for her contributions to early childhood education. She was a member of Gamma Sigma Delta, the honor society of agriculture and home economics, and Alpha Delta Kappa, an international group of women educators dedicated to excellence. She served as president of the Pulaski County Pre-School Association and the Arkansas Association on Children Under Six (AACUS), n addition to heading SACUS, the regional early childhood organization with over 7,000 members in 13 states. Both AACUS and SACUS gave Mrs. Pagan their outstanding member awards. She was a delegate to two White House Conferences on Children and Youth.
Mrs. Pagan had an exceptionally active retirement. She volunteered at the Shepherd Center, participated in the nursery school and altar guild at Trinity United Methodist Church, and served as a docent at the Arkansas Arts Center's Decorative Arts Museum. She chaired a voter registration drive for the Pulaski County Legal of Women Voters and worked in the Retired and Senior Volunteer program of Central Arkansas.
A keen horticulturalist and certified Master Gardener, Mrs. Pagan chaired the Arkansas Unit of the Herb Society of America and served on the group's national board of directors. She belonged to the Central Arkansas Horticultural Society and the Chenal Garden Club.
Mrs. Pagan's husband of almost 55 years, John Frank Pagan, died in 1998. She is survived by her sons, Dr. John Pagan, of Richmond, Va., Dr. Jim Pagan of Little Rock, and Dr. Joe Pagan of Versailles, Ky.; her granddaughter, Elizabeth Pagan; and her grandson, Will Pagan, of Versailles.
The family would like to express its gratitude to the staff of Fox Ridge at Chenal retirement community for their compassionate care of Betty and support for her family.
There will be a funeral service on Monday, March 31, 2014 at 2:30 p.m. in Ruebel Funeral Home, followed by graveside service at Mount Holly Cemetery. Following the graveside service there will be a visitation at Trapnall Hall from 4-6:30. Memorial contributions may be made to Trinity United Methodist Church, 1101 N. Mississippi, Little Rock, Ark. 72207. Arrangements are under the direction of Ruebel Funeral Home. For a more detailed account of Mrs. Pagan's life, www.ruebelfuneralhome.com.
Published March 30, 2014
OBITUARY SUBMITTED BY:
Ruebel Funeral Home
6313 West Markham Street, Little Rock, AR
Phone: 501-666-0123
http://www.ruebelfuneralhome.com