Rowan Barney "R.T." Keathley
of Sherwood, AR, 1924 - 2014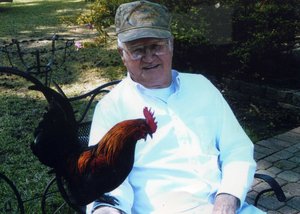 ROWAN BARNEY "R.T." KEATHLEY, age 90 of Sherwood, passed away March 28, 2014 in Little Rock, He was born on Feb. 22, 1924 in DesArc; he was the son of Curby and Cecil Keathley.
Rowan was a parts manager for many years at Macks Trucks, Robinson Int. and Studebaker. He was a member of Life Tabernacle, where he played the guitar for many years. He was an avid fisherman and won many awards. He enjoyed nature, bird watching, working with flowers and built many bird houses for friends and relatives. He loved riding his golf cart and Kubota.
He married Betty Nally in 1944. She preceded him death in February 1997. He married Dorothy Heslep March 28, 1998.
He is preceded in death by his parents; one brother, Loyd Keathley; one sister, Mary Alford; and one grandson.
He is survived by five children, Vivian Higgs of Sherwood, Harry (Betty) Kethley of Little Rock, Lynn (Joe) Soley of Holt, Fla., Thomas Keathley also of Holt and Pat Jones of Sherwood. He had nine grandchildren; two step-grandchildren; and 14 great-grandchildren.
He was dearly loved and will be greatly missed by his wife Dorothy, his children, family, many friends and church members.
The family would like to thank Dr. Brain Sheppherd for his care of Rowan at the time of need and his concern afterwards. The family also, wants to thank Dr. St. Pierre for his kindness and expertise and the wonderful compassionate care Rowan received at Arkansas Hospice during his short time there.
Visitation will be at Huson Funeral Home 7700 Hwy 107, Sherwood Ark., Monday 6-8 p.m.
Funeral services will be at Life Tabernacle on 23903, Hwy 107 Sherwood, Ark. with burial at Rest Hills Memorial Park, North Little Rock.
Sign an online guest book at www.husonfuneralhome.com.
Published March 30, 2014